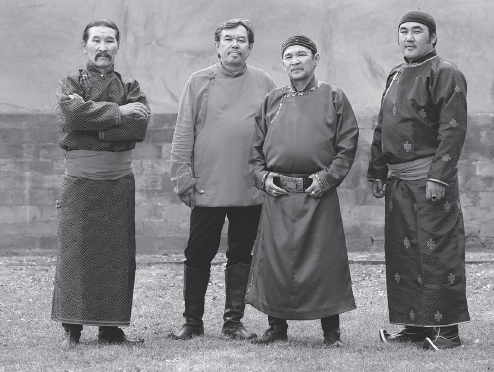 Huun-Huur-Tu [Photo provided to China Daily]
Radik Tulush plays the four-stringed byzaanchi and flute-like shoor; Kaigal-ool Khovalyg plays his bowed two-stringed igil and Alexei Saryglar plays the shaman drum.
Meanwhile, to mark the 25th anniversary of Chinese "campus folk music", a music genre popular in the 1990s, which won a large fan base in China then with lyrics about youth, romance and friendship, accompanied by guitar, Chinese singers like Lao Lang and Pu Shu who represent the golden era of "campus folk music" will also be part of the music festival.
Separately, the festival will also feature Spanish circus troupe Voala, which will bring a show called Muare Experience, blending a rock concert with aerial choreography.
"It's our first time in China and we will introduce a concept that we have been performing around the world since 1999," says composer and producer of the company Gaston Lungman.
"It is a compilation of aerial choreography, a psychedelic mobile structure inspired by French artist Marcel Duchamp's Rotoreliefs (a manifestation of the artist's interest in optical illusions and mechanical art in 1935) and rock music."
"This mixture resembles a ritual experience in the way of live music videos where the audience can enjoy a visual concert with the sky being the main scenery," says Lungman, adding that the team consists of 24 people including acrobats, technicians and musicians.
With a live four-piece band playing at the show, Muare Experience, which premiered in 2010, has been performed in several cities around the world.
In Qingdao, the team will introduce a new improved version they have performed in London, Paris and Buenos Aires.
Other highlights of the event will include pop star Tan Weiwei and Taiwan singer-songwriter Joanna Wong Ruo-lin.
chennan@chinadaily.com.cn