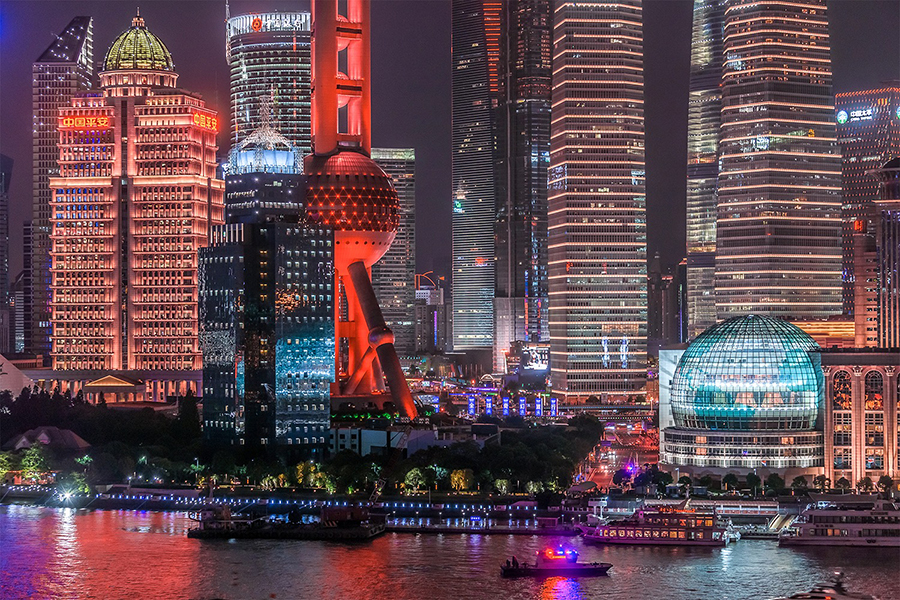 Mark Siegemund's photo: Lights On shows buildings in Lujiazui during the National Day holiday.[Photo provided to China Daily]
German architect and photographer Mark Siegemund turns his adopted city into a land of fantasy through his creative visual works that aim to stir the imagination, Alywin Chew reports.
In early May, Shanghai was transformed into a frozen landscape. The Huangpu River was frozen over, the buildings caked in snow and a towering wall of ice could be seen rising above the ground in the Lujiazui financial area.
A man with a long sword ambled toward the edge of a cliff located across the river in Puxi. As he surveyed the desolate landscape, three dragons emerged from behind the Shanghai Tower, their screeches reverberating through the city.
This was, of course, nothing more than a fantasy, Game of Thrones-inspired world that only existed in an image created by rising Instagram star Mark Siegemund. The 34-year-old German, who has been living and working in Shanghai since 2012, has also caught the attention of Chinese netizens in recent months. His works have been shared on Chinese social networking platforms, with many people praising his creative renditions of the city.
In his other works, Shanghai is transformed into Gotham City, the fictional place where the comic character Batman resides. Sun Wukong, also known as the Monkey King, can be found standing atop a temple.