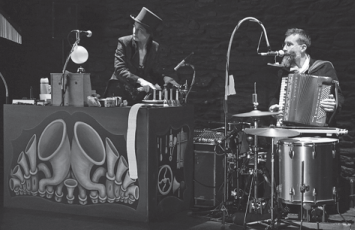 Nitro Circus by French musical troupe Label Caravan. [Photo provided to China Daily]
Bapa adds that one of the band's songs, Camel Caravan Drivers, is about a horseback rider's journey to Beijing from Tuva along the Silk Road.
"We also have special songs about the ancient Silk Road, which is culturally rich and diverse, and about traveling back and forth to China. Even now there are some routes that are the same in Russia. We are all traveling the same way our ancestors did."
Bapa, who was born to a Tuvan father and Russian mother, learned traditional Tuvan songs and khoomei (throat-singing) from his family and friends, who are not professional singers, but sing very well.
He also plays a three-stringed doshpuluur (Tuvan lute).
Huun-Huur-Tu's three other musicians are all masters of different styles of khoomei and Tuvan traditional musical instruments.