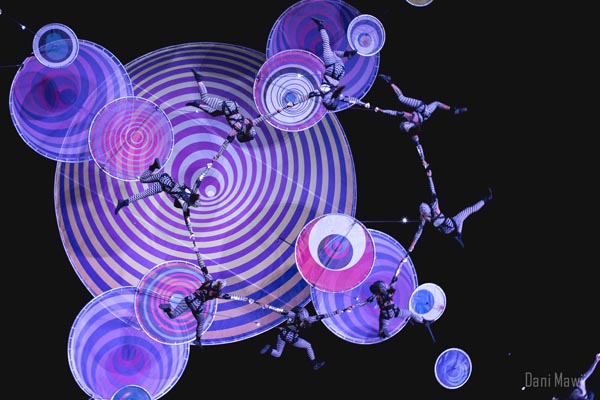 Muare Experience by Spanish circus troupe Voala [Photo provided to China Daily]
One of the acts at the music festival is Huun-Huur-Tu, a band from Tuva, a part of the Russian Federation, which will make its debut in Qingdao.
Among the others are Kerman and his flamenco guitar band from the Xinjiang Uygur autonomous region, and vocalist Sainkho Namtchylak from Tuva.
Huun-Huur-Tu, formed in 1992, will play songs inspired by their ancestors and the stories of the ancient Silk Road, the network of ancient trade routes that stretches from China to Europe.
Huun-Huur-Tu, which means "sunshine" in Tuvinian, released its first album 60 Horses in My Herd in 1993 and made its debut in the United States the same year.
They first performed in China in 2014 and have been frequent visitors to the country ever since.
Speaking about Huun-Huur-Tu's music, Sayan Bapa, 56, one of the founding members of the band, says: "Our compositions are mostly based on traditional Tuvan folk songs, which are about our ancestors, love, nature, Tuva's people, folk stories and the beautiful land.
"Tuva is our inspiration and we have many songs passed down by our elders, and we sing them to our children too. We hope everyone can see the nomadic spirit in the songs."