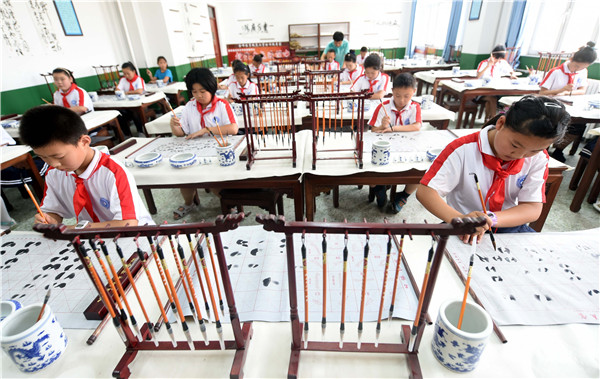 Ancient classics provide lessons that are still relevant today. [Photo by Liu Junxi Xinhua / China Features]
The government is also driving the movement. In April 2014, the Ministry of Education issued a guideline for teaching traditional culture from primary school through college. It required more lessons on traditional culture to be included in primary and middle school textbooks.
President Xi Jinping echoed this view when he visited Beijing Normal University in September 2014. He voiced disapproval of decisions to remove classic Chinese poems and essays from textbooks.
"China's cultural genes should be planted in the minds of the young," Xi said.
China's Language and Culture Press, one of the most authoritative publishers of school textbooks, has revised its Chinese language textbooks by raising the proportion of traditional culture from 30 percent to 50 percent. If approved, the Ministry of Education will put the textbooks into use.
In the opinion of Wang Xuming, president of the Language and Culture Press and a former spokesman for the Ministry of Education, the fundamental importance of the mother tongue must be stressed in the curriculum, and traditional Chinese culture should be placed at the core of Chinese language learning. He also called for more effective and creative ways of teaching to make the classics more appealing.
"For example, we placed enlightening open questions in the textbook such as 'How would you relate Confucianism to modern society?' to prompt student thought. We hope to combine the lessons with contemporary issues in the hope that students can utilize ancient wisdom to solve current problems," Wang says.
The enthusiasm for traditional Chinese culture has created a growing demand for teachers specializing in this area. Some colleges and universities have started special graduate and postgraduate courses in the subject. The Ministry of Education announced that traditional Chinese culture will become an official major in universities starting next year.
Professor Guo Qiyong, dean of the School of Chinese Classics at Wuhan University, says traditional culture offers China the ideological roots to develop and prosper as a nation. Without it, Chinese would lose their identity in the trend of globalization.