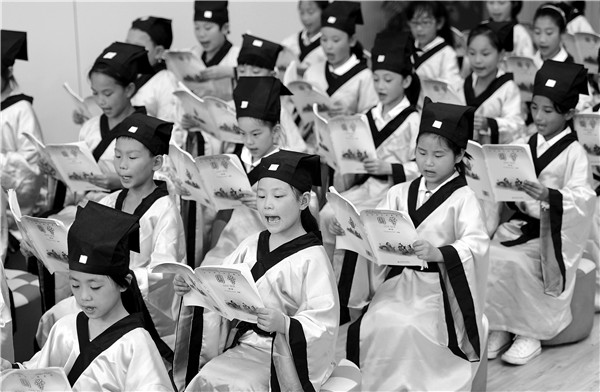 Pupils wearing hanfu, as ancient students did, recite Lunyu (or Analects of Confucius) during a ceremony marking the 2,565th anniversary of the birth of the ancient Chinese philosopher Confucius in Xiyou primary school in Hefei, capital of Anhui province, on Sept 28, 2014. [Photo by Liu Junxi Xinhua / China Features]
Ancient classics provide lessons that are still relevant today
Dressed in the style of the Han Dynasty that ruled China 1,800 years ago, 6-year-old Chen Quanjin is chanting ancient Chinese classics with several other children about the same age as their heads sway from side to side.
Instead of taking piano lessons or joining an overseas study tour, Chen spent his summer vacation doing traditional Chinese studies at the Chengxian Guoxue Institute in Guozijian, China's highest education institute from the 13th to 19th centuries.
Chen has mastered the Dizigui, a Chinese book dating back more than 300 years that lays out standards for being a good child and student. He says the three-character verses are understandable and trip off the tongue.
"Older siblings should befriend younger ones; younger siblings should respect and love older ones. Siblings who keep harmonious relationships among themselves are being dutiful to their parents," Chen quotes from the work.
With students aged mostly from 4 to 10, the Chengxian Guoxue Institute aims to expand children's exposure to traditional culture through introductions to Confucianism, Chinese calligraphy and other traditional values, says director Ji Jiejing.
"Traditional Chinese culture should not lose its grip on young Chinese as it is good for their moral development and the cultivation of their character. Some wisdom delivered through the Chinese classics might help children deal with the challenges in their own lives," Ji says.