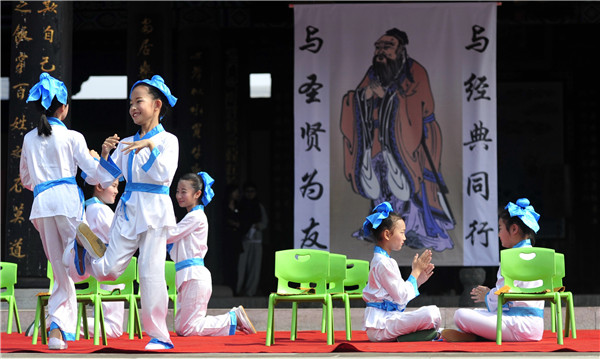 Ancient classics provide lessons that are still relevant today. [Photo by Liu Junxi Xinhua / China Features]
"As a kind of enlightenment, I think traditional Chinese learning can start at an early age, say around 4, so the philosophy will be deeply rooted in their hearts."
The popularity of the Chengxian Guoxue Institute reflects a resurgence of interest in traditional culture. In recent years, Chinese students' English learning craze has, to some extent, led to the neglect of their mother tongue, especially China's traditional cultural legacy. So there has been a pressing call for a school system that attaches enough importance to the learning of traditional culture.
Beijing's Tongzhou district is a pioneer in teaching traditional culture. More than 50 primary and middle schools there have compulsory Chinese language lessons and one period a week focusing on cultural traditions. They are working with experimental textbooks for the lessons, which began in 2009.
"We try to find innovative ways to instill traditional culture into students, such as chanting the classics with morning gymnastics and holding couplet-writing competitions," says Lu Hongli, of Tongzhou's Teacher Research and Training Center.
"They gradually develop an aesthetic sense of Chinese classics and the spirit of Chinese culture," Lu says.
The experimental textbooks used in Tongzhou district were developed by the China Traditional Culture and Art Center. Initiated by the Ministry of Education, they are the first in a series of nationwide experimental textbooks for primary and middle schools. The center is also working on the high school curriculum with methods to assess the teaching of traditional culture and different models for examinations.
Zhang Jian, secretary-general of the China Traditional Culture and Art Center, says traditional Chinese culture will inevitably be included in China's college entrance examination.
"That will provide a stimulus for students in primary and middle schools to learn traditional culture. But testing is not the ultimate goal. The learning process will undoubtedly improve students' moral standards and nurture their love for China's cultural legacy," Zhang says.