The Swan is the most painful novel Xu Xiaobin has ever written. But like her other books, it is filled with magical romanticism. Mei Jia finds out what inspires the first Lu Xun Literature Prize winner.
Xu Xiaobin is a unique Chinese writer. She's different not because she writes from a female perspective, not because she considers herself an outcast of her family, tradition and her time, and not because of the inerasable memory of the "cultural revolution" (1966-76) often repeated in her works.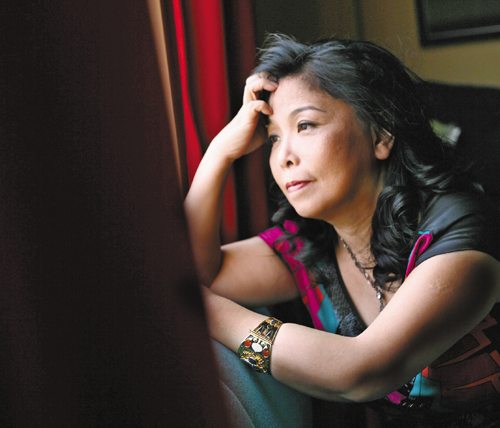 CHINA DAILY
Author Xu Xiaobin has maintained a prodigious output throughout her 32-year writing career and her works represent romanticism, an oft-neglected strength in contemporary Chinese writing.
She is special because she represents an oft-neglected strength in contemporary Chinese writing: romanticism and even magical romanticism.
"Romanticism is on the lower spectrum when compared with the status of realism in Chinese literature," literary critic Chen Xiaoming says. "Xu fills the blank."
Born in 1953 in Beijing, Xu is the first Lu Xun Literature Prize winner and has been productive in the 32 years since her debut. She's also the author Simon & Schuster first chose to list in its key international publishing plan.
Xu is often invited to speak at international book fairs and literary festivals to represent the female voice of Chinese writing.
"The foreign interest in female writers has been rising since the late 1990s," Xu says. "I was among the first to speak to an international audience about the real situation of Chinese women."
"I believe both my speeches and my stories show them that Chinese women are independent, intelligent and fashionable, with a pioneering spirit."
Some critics opine that those who think Chinese lack imagination will be proven wrong when they read Xu's works.
In her new novel, The Swan, Xu explores a different way of writing compared to her previous works.
"The writing is no more heavily rhetorical and complicated. It's a pure love story, against the age of materialism, with simple language," Xu says.
But she reveals it's the most painful novel to finish. She even paused for four years before resuming writing.
"I stopped to find out what is true love in our time while trying to finish the 'book of love'," she says. The Swan movement by Charles Saint-Saens gave her the inspiration to carry on writing.
The story, set in Beijing and the mysterious Sayram Lake at Yili, the Xinjiang Uygur autonomous region, is about love, sex and death between a 20-something soldier and a female composer in her 40s.
As their story unfolds and develops, an underlying theme is the composition of an opera The Swan. The novel becomes a feast for both the eyes and the ears (through its rhythm and tones) as the Western-styled music mingles with local tales of a pair of lovers-turned-swans in Sayram.
"Yes, I structured the story carefully according to the rules of music, for which I attended two months of classes in 2011 on music composition," Xu says.
Her attempt at structuring the novel with music is considered innovative. Critic Dai Weina hails the novel as "the first novel with musical accompaniments".
Xu says the story was inspired by a piece of news during the SARS period in 2003, when a fearless young man took care of his infected girlfriend. He died because of the disease while the woman survived.
Although fascinated by the world of fantasy, Xu keeps a keen eye on the key events in the country's social transformation.
"I experienced, or witnessed, almost all the historic moments," she says, adding that she was the first writer to try screenplays even earlier than her peers Liu Heng (author of Qiu Ju Goes to Court) and Wang Shuo (author of The Trouble Shooters and If You Are the One).
A playwright with CCTV, Xu creates for television and movies. She's also known for her paintings and paper-carving arts. Her crossover to other kinds of artworks adds color and dimension to her writings.
"Like an imagist poet equipped with the multimedia of the modern age, the writer portrayed a cinematographic epic with her silky language," Amazon.com reader Zhang Mai once commented about Xu.
Xu had an unhappy childhood, struggling between her mother's repulsion and the effort to prove herself with her talent in arts.
The mother-daughter relationship later became the main theme in her novel Feathered Serpent, which was translated into eight languages.
Australian scholars Kay Schaffer and Xianlin Song dedicated one chapter to Xu in their book Women Writers in Postsocialist China, in which they commented: "(Xu's) postmodern subversion of established accounts of Chinese history, as well as her multiple allusions to the past designed to serve the present, distinguishes her amongst her contemporaries".
Xu was a teenager when the "cultural revolution" happened.
"I was locked in a small room with nothing to do. I eagerly read through all the books in the room. Literature became my salvation," she recalls.
Her writing is mainly impulsive and smooth, occasionally meeting with setbacks when she feels challenged by dramatic social changes.
"Reading and writing literature has changed my life completely. It brings me constant joy mingled with pain. If I could choose, I would not start reading literary works at such a young age," she says.