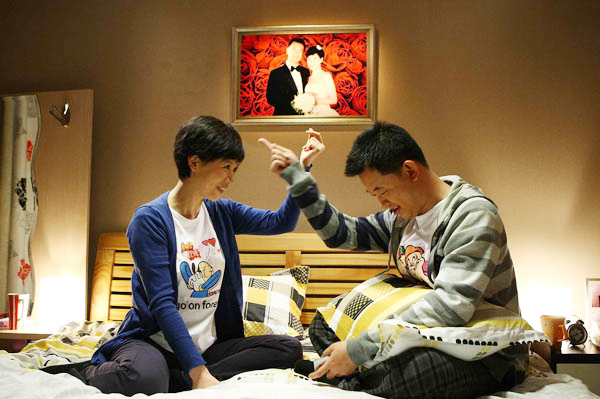 The soap opera Mao Doudou and Her Sweet Days made a successful debut in various Swahili-speaking countries in eastern Africa in 2011. Experts say Tanzanians will learn about modern China through the series. (China Daily)
I learned what life looks like in New York City by watching the TV show Friends and understood British cultural traditions by enjoying Shakespeare's plays. And, of course, hundreds of Hollywood movies have shown me what a hero is supposed to be and defined "the American dream". These are some of the strongest ties that connect observers like me to the United States and Western culture.
As a Chinese correspondent based in Africa, I have been thinking about how to depict China, such a fast-changing country, to my African readers. Writing a feature or describing the scenery may begin to paint a picture, but far more is necessary to give readers a clear understanding of the lives of real people.
Trade and economic ties between China and Africa are making great strides, but sometimes misunderstandings between the two distinct cultures hamper relations. In a move similar to what Hollywood has done for the US, China hopes its films and TV shows can bridge those cultural gaps and further develop collaboration with Africa.
Two hit Chinese TV shows dubbed into Swahili, the national language of Tanzania, are due to be aired during primetime in the country this month. Father's Wishes and Mother's Glorious Days are stories about the everyday lives of ordinary people who have experienced the great changes in China over the past few decades.
This is the second time that China has introduced its TV shows to Africa. The first was in 2011, when the soap opera Mao Doudou and Her Sweet Days made a successful debut in various Swahili-speaking countries in eastern Africa.
Rather than calling this the spread of "soft power", the term coined by Harvard professor Joseph Nye, China is more likely to see the broadcasting of its TV shows in Africa as a way for African audiences to learn more about contemporary China and how it is changing.
Liu Dong, cultural counselor to the Chinese embassy in Tanzania, said the Tanzanian people will learn more about modern China through the TV series.
"They will better understand the developments of China in recent years, as well as the lives of Chinese people. It will deepen the friendship between the two countries," he says, echoing a statement of Tanzanian Prime Minister Mizengo Pinda during a visit to Beijing in late October.
Chinese TV shows have been something of a latecomer to African screens. Soap operas from South Korea, the Middle East, the US, India and Europe are more familiar, but they are already gaining fans.
"I've been hearing about the achievements that China has made and how huge the changes have been in the country over the past 30 years, and I've seen some pictures on the Internet," said Paul Udoto, a 36-year-old Tanzanian. "But the TV series, which tell stories of ordinary people, with normal street scenes in China, are more vivid and convincing."
He says he cannot completely understand the background to the shows' storylines because that requires specific knowledge of Chinese culture, but adds that most of the stories resonate with his own feelings, even in an African setting.
"For instance, Africans have the same tensions between a wife and a mother-in-law as Mao does in the Mao Doudou show," he said.
Also, because the show is dubbed into his mother tongue, the scenarios feel more natural, familiar and interesting to him.
Wang Gengnian, director-general of China Radio International, which is responsible for the dubbing work, said the dissemination of information and culture would not be effective unless it was close and respectful to the indigenous culture.
More Chinese TV shows, movies and cartoons will be dubbed in English, French, Arabic, Portuguese, Swahili and Hausa, and aired by African TV stations later this year.
We recommend: