One man's love of Lhasa's Barkhor Street fuels a voracious appetite for pen-and-ink drawings of its ancient buildings. Feng Xin reports.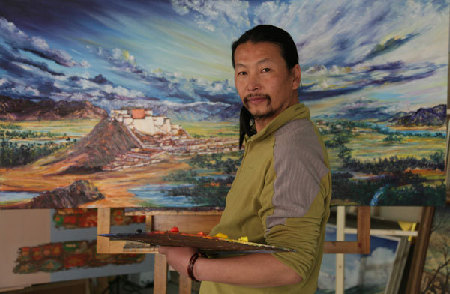 Huang Jialin, a Han artist born in the Tibet autonomous region, poses in front of an unfinished painting of the Potala Palace. Wang Jing / China Daily
'The color of soy sauce,"says Tibetan-born artist Huang Jialin when he is asked to pick one hue to describe the playground of his youth - the 1,300-year-old Barkhor Street in Lhasa, capital of Tibet autonomous region. Huang, 45, trawled its length as a petty thief and odd-jobs man in his teenage years, before he began knocking on doors to measure every house on the street.
In 1996, he was tasked with making line sketches of Barkhor Street for an international non-profit organization as part of its efforts to protect the ancient street.
The nearly kilometer-long Barkhor Street circles Jokhang Temple, a center of worship for Tibetan Buddhists. For followers, who believe in reincarnation, the street that has no entrance or exit is a metaphor for life itself, sans beginning or end. As one of the most important prayer routes, tens of thousands of Tibetan Buddhists crowd to the street every day.
"The old houses on Barkhor Street were all painted in lime white back then," Huang says, recalling that every year people went onto the roofs and repainted their houses to welcome the gods. "The paint left dark stains, layers of it," Huang says.
An ethnic Han, Huang was born in Tibet's Nyingchi prefecture after his parents moved from Chongqing in the 1950s and is more fluent in Tibetan than in Mandarin.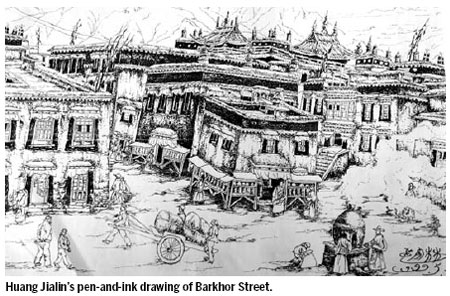 Huang's formal education ended with elementary school, and his family moved to Lhasa when he was a teenager. He enjoyed hanging out on the street all day with his Tibetan friends, picking up small carpentry jobs now and then.