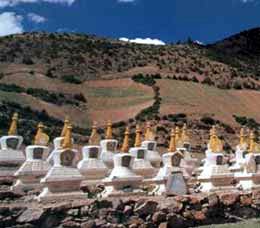 Located in the eastern part of Southwest China's Tibet autonomous region, the Chamdo Prefecture, tucked away in the Hengduan Mountains and dissected by the Jinshajiang, Lancanjiang, and Nujiang rivers, covers an area of about 110,000 square kilometers. On its eastern side lies Sichuan province, with Yunnan and Qinghai provinces to the south and north respectively.
Now it administers 11 counties (Chamdo, Gyamda, Gongjo, Riwoqe, Dingqen, Chagyab, Baxoi, Zogang, Mangkang, Lhorong, and Palbar), 13 districts, 9 towns, 168 townships (including nine towns), and 1,622 administrative villages. Twenty-one ethnic groups including Tibetan, Han (China's main ethnic group, accounting for over 90 percent of the country), Hui, Zhuang, Naxi, Lhoba, Monba, and Bai live here. The prefecture's total population is over 550,000, of which 98.26 percent are Tibetan.
Many kinds of plants and countless precious wild animals grow and live respectively in the depths of the high Hengduan Mountains. Because of its special geographical structure, Chamdo has also formed a rich nonferrous metal zone. The Yulong bronze mine in Gyamda produces high-quality bronze, accompanied by certain amounts of gold, silver, molybdenum, and iron. It is the second largest bronze mine in Asia.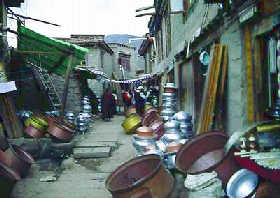 The Jinshajiang, Lancangjiang, and Nujiang rivers all go through the Chamdo Prefecture. The annual flow capacity is about 38.9 billion cubic meters. Counting other rivers, the annual flow capacity in Chamdo is over 40 billion cubic meters. Usable water resources in the area can produce 40 million kilowatts of power.