The Ngari Prefecture is located in the western part of Southwest China's Tibet autonomous region, at the center of the Changtang Plateau on the northern part of the Qinghai-Tibet Plateau. It begins at Zhamai Mountain, west of the Tanggula Mountains, in the east, bordering the Nagqu Prefecture, and stretches to the western section of the Himalayas in the west and southwest, bordering India and Nepal. It joins the middle section of the Kangdese Mountains, neighboring the Xigaze Prefecture's Zongba and Sagar counties, and ends on the southern side of the Kunlun Mountains in the north, neighboring Xinjiang Uygur Autonomous Region. The border totals 1,116 km, with 57 passageways linking the area to other places.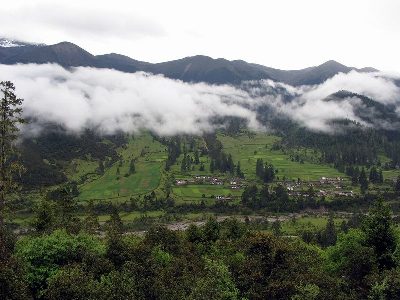 Known as the "roof of the world's roof," Ngari covers a vast stretch of land and has a sparse population. It stretches 600 km from east to west and measures 550 km from north to south, covering a total area of 345,000 square km. Ngari has a total population of over 70,000, about 82 percent of which are peasants and herders. With a density of about 0.2 people per square km, Ngari is the largest prefecture in China in area, with the smallest population density.
The Ngari Prefecture is made up by seven counties: Burang, Gar, Ge'gyai, Gerze, Choqen, Zhada, and Rutog. Burang, Zhada, Gar, and Rutog, in the area's southwestern and middle parts, engage mainly in agriculture, supplemented by animal husbandry, while Choqen, Gerze, and Ge'gyai, in the east, engage purely in animal husbandry.