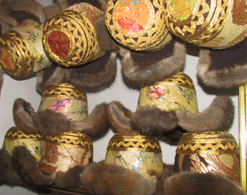 As Southwest China's Tibet Autonomous Region has low temperature, strong sunshine, and changeable weather, as well as strong wind whipping up sand, Tibetans like to wear different styles of hats related to status, gender, and region. The most common one is called "Xamo Gyaise" -- the golden thread hat.
The lining is made with a felt cap base. The top is decorated with golden silk and the edge is inlaid with silk ribbon. The hat is designed with four edges -- the larger front and back edges and the smaller left and right edges --, all sewn with fur.
With fine materials, the hat is very warm and loved by both men and women. When women wear the hat, they place the two larger edges inside the hat, leaving the left and right ones outside; for men, the left, right and back ones are placed inside, leaving only the front one out. In snowy weather, the four edges are all placed outside. The elderly usually set the four edges outside. The golden thread hat is practical and cannot be compared with other hats.