On the window of Phuntsog's house hang photos of smiling faces from across the country.
Although the 63-year-old Tibetan has rarely stepped out of his hometown, he has met people from everywhere in his small home inn in Nyingchi county, in the southeastern part of the Tibet autonomous region.
Nyingchi lies on one of the major routes tourists choose to enter Tibet, especially for hikers, as its lower 3,000-meter elevation serves as a warm-up for visitors to get used to the high altitude on the Qinghai-Tibet Plateau.
One of the first local residents to open their homes to visitors in 1999, Phuntsog has gained increasing fame among tourists as "name-card uncle".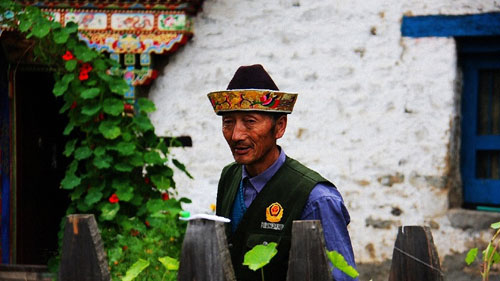 Phuntsog, 63, stands in front of the inn he runs in his hometown Nyingchi, the Tibet autonomous region, in this file photo. He has earned a good name among backpackers throughout the country because of his hospitality and thoughtfulness toward others. Provided to China Daily
It started by accident in the summer of 2001, when two Guangdong guests left a video camera at Phuntsog's home after staying overnight.
Not having the guests' contact information, Phuntsog headed to the county town 72 kilometers away to look for them.
However, he was told that they had just left town. Worrying they would not find their way back to the remote village, Phuntsog took the video camera to the entrance of the highway. After two days of waiting on the roadside, Phuntsog found the visitors and returned their video camera.
"If they had known my number, I could have just waited at home," Phuntsog said.
He has since handed out a name card to every guest, and his inn has now become popular thanks to recommendations by an increasing number of visitors recording his "warm and thoughtful service" on travel forums.
"Maybe my wife makes the best Tibetan butter tea," Phuntsog said, laughing. "People said it was like staying in their own home."
Phuntsog also volunteers as a tour guide to nearby scenic spots. Many tourists describe Phuntsog as a good narrator of legends related to the sites.
He has also learned to take photos for the travelers, who later usually send some pictures back as tokens of gratitude.
"I'm the best Mandarin speaker in the village," Phuntsog said proudly, though he can only read a few Chinese characters like Beijing, Tibet and his own name.
Now Phuntsog's home inn has become a kind of booking center for the village - since his inn has only 24 beds, he refers those he has no room for to some of the other 20 households that have also opened their homes to visitors.
Each year, Phuntsog said, his home inn receives some 2,500 people, adding that he is satisfied with the business that usually brings in around 100,000 yuan ($15,000) a year.
Back in the 1990s, like most of his fellow villagers, Phuntsog lived on chopping down trees.
"We made about 60 yuan by cutting two or three trees like this," Phuntsog said, pointing to a tree about 80 cm thick. The yearly income of the family was less than 2,000 yuan.
No tap water, no electricity and no fixed income - it was a time when the most valuable family possession was three goats.
"I had never seen rice before. Our major food was zanba (roasted barley flour), not enough to feed the family," he said.
Later the local authority banned tree cutting to protect the natural scenery of the village.
Meanwhile, the village also built water and electricity systems and improved housing conditions.
With his increasing income, Phuntsog was able to refurbish his house in 2010, adding facilities like flush toilets, showers and air conditioners.
One thing Phuntsog regrets is he seldom has the chance to visit other places, despite lodging guests from every corner of the country.
"I'm growing old and too busy with my home inn business. I cannot travel from here, although many of my guests have offered to accommodate me if I pay a visit to their hometowns," Phuntsog said.
By Cheng Yingqi
Editor: Liu Fang