Xinjiang -Tibet Highway, the No 219 National Trunk Highway, starts from Yecheng county of Xinjiang and ends at Lhaze county of Shigatse Prefecture in Tibet. It runs 1,455 kilometers, winding its way among mountains and rivers.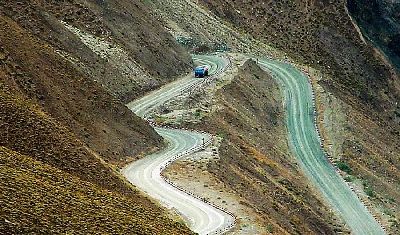 Construction of the highway began in March 1956 and finished October 6, 1957. It climbs over 10 soaring mountains, including the Kunlun and Gangdisi mountains, with the highest elevation reaching 5,433 meters. Most areas it crosses are 4,000-5,000 meters above the sea level. It then goes southbound along the north slope of the Himalayas and crosses deserted land in the west.
A spectacular view of the holy mountain Kangrinboqe and the holy lake Mampang Yumco can be viewedas travelers take the road. Many famous attractions and historical sites are also seen. Hordes of Tibetan antelopes, wild donkeys and oxen drift into view, all under national-level protection.
Xinjiang-Tibet Highway is the principal thoroughfare of Ngari Prefecture's foreign exchange and also an important defense trunk highway. It plays a major part in the economic development of Ngari, maintaining social stability, improving people's life and consolidating the southwest frontier defense.