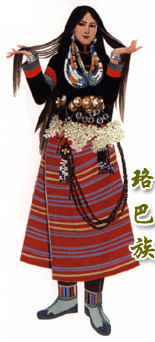 The Lhobas mainly inhabit the Lhoyu area in the southeastern part of Southwest China's Tibet Autonomous Region, with the population numbering 2,965 by the year 2000. They have their own language, which belongs to the Tibet-Burman group, but with dialects that vary greatly from tribe to tribe. They don't have a written form. Some people can speak and write in Tibetan. Their main occupation is farming, complemented by hunting and gathering. They traditionally believe in primitive religion and Tibetan Buddhism.
Lhoba is what Tibetans call the people living in Lhoyu. It means "southerners" and includes many different tribes such as the Bogaer, Ningbo, Adi, and Tajin.
Lhoyu, a fabulous land of 70,000 square kilometers, is the ancient home of the Lhobas. It is located at the southern foot of the Himalayas' eastern end. The Lhobas living in the rural district of Nayu, Milin County, along the northern slope of the Himalayas belong to the Bogaer tribe. They moved from Manigan district dozens of years ago, and still lead a traditional life there.
The Bogaer usually live in blockhouses made of stone and wood, solid, durable, and protective. They often paint various auspicious patterns on their doors and walls in the house. Animal heads hanging on the walls are not only a symbol of wealth but also a display of their hunting skill.
The Bogaer have always lived on corn and Jizhua rice, most often roasted. However, they are presently accustomed to the Tibetan diet: eating Zamba made of highland barley and drinking butter tea.
In Nayu, the Lhobas' clothing style is particularly practical. They make their clothes mainly from plant fabric and animal skin.
Men usually wear a black vest called Namu over homemade sheepskin coats or long Tibetan pulu robes. They wear a brimmed bearskin hat that is reputably capable of confusing fowls when the men go hunting. The brim is wrapped with a ring of bear fur, and hanging at the back is a patch of bearskin with eyeholes.
The women like to wear little collarless short-sleeved garments woven with flax together with close-fitting knee-length skirts and ankle leggings.