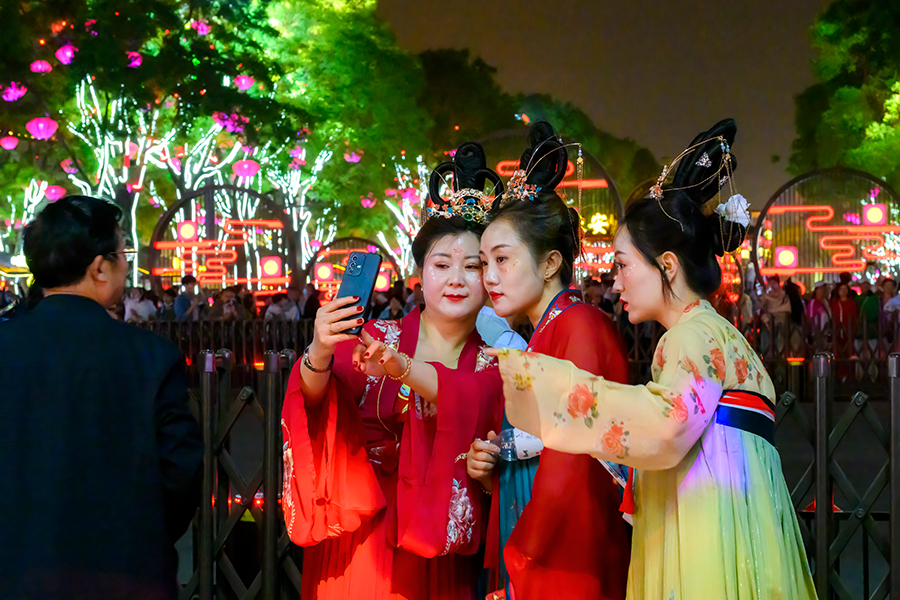 XI'AN — Even after 10 pm on a typical weekday, the Grand Tang Mall, a bustling pedestrian area in the northwestern city of Xi'an, Shaanxi province, teems with people, dazzling lights and vibrant music adding to the lively atmosphere.

The main street is lined with Tang-style pavilions and decorations, and it is common to see people of different ages dressed in traditional Chinese attire taking a leisurely stroll.

The scene evokes the sensation of stepping back in time to Chang'an, the old name for Xi'an when it was the capital of the Tang Dynasty (618-907).

But this alone doesn't fully account for why the modern re-creation has become one of the premier tourist attractions in Xi'an.

In recent years, tourists have been increasingly drawn to a series of outdoor performances along the street, featuring cultural elements from the Tang Dynasty, but presented in a contemporary approach.

Toward the north end of the block, a crowd of people stand in a circle around a stage, intermittently laughing and cheering.

Onstage, two comedians portray the roles of Fang Xuanling and Du Ruhui, two prominent Tang Dynasty figures. They engage one of the spectators in a lively quiz about Chinese culture, and even when the answers are incorrect, the spectator poses for snapshots with the actors.

"Combining tourism with culture is a good way for people to gain basic knowledge about culture," says a tourist surnamed Zhu, who hails from Beijing.

Visitors are also able to engage in conversations about ancient Chinese poetry with acclaimed Tang Dynasty poets like Li Bai and Bai Juyi, played by actors.

Within just 100 meters of each other, captivating musicals and dance performances skillfully blend traditional and contemporary elements, making for an immersive cultural experience.

The interactive events with strong cultural values produced by the Grand Tang Mall have emerged in recent years as the new calling card of the city's tourism sector.

As per the official schedule, there are more than 20 regular programs, each lasting approximately 10 minutes, which are often repeated multiple times every evening.

A travel tip circulating on social media advises that arriving early to secure a spot is essential to clinching a good view of the popular shows.

"There is a classic story behind almost every performance, and the setting for every program retells the history vividly," says a tourist surnamed Wang.

The cultural tourism block stretches from the city's famous historical landmark, the Great Wild Goose Pagoda. It is 2,100 meters in length and 500 meters in width.

When it was first built in the 1990s, the ancient re-creation felt inauthentic and failed to resonate with visitors to Xi'an. Then in 2018, the Qujiang New District launched a comprehensive revamp, enhancing and revitalizing the block.

"The upgrade included not only the reconstruction of facilities but, more importantly, the production of a series of immersive and interactive performances that seamlessly integrate art with architecture, breathing life and character into the block," says Gao Ruixia, executive deputy general manager of the company running the attraction.

"The Tang Dynasty was a glamorous period in Chinese history, known for its poetry and art performances. We will continue to explore cultural representations of that era to develop new productions," Gao adds.

Statistics show that the Grand Tang Mall has received a daily average of 300,000 tourists since June. Xi'an welcomed 200 million tourists in 2022.
XINHUA