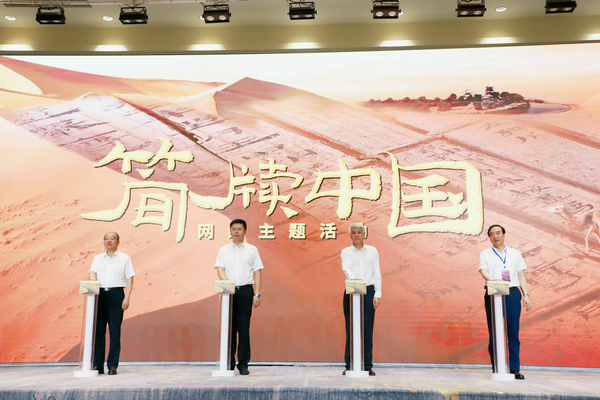 Jiandu are wooden or bamboo slips, the main media for writing documents before paper was widely introduced in ancient China. As first-hand historical documents, jiandu plays an important role in supplementing, confirming, and correcting existing historical records; however, it still remains under the radar for the general public.
China and the Silk Road, Understood Through Bamboo Slips, a media event, was launched on Saturday in Dunhuang, Jiuquan city of Northwest China's Gansu province, to tap internet outlets to promote jiandu culture to wider audiences.
In the next four days, more than 20 journalists from domestic online media organizations will conduct interviews in Dunhuang and Lanzhou, capital of Gansu province, to find out more about jiandu culture at heritage sites, universities, and museums.
Three keynote speeches were delivered at the launch ceremony.
Tian Shu, vice-president of Northwest Normal University, said the Hexi Corridor located in Gansu province is arguably the capital of hanjian, or jiandu dating back to the Han Dynasty (206 BC–AD220), as more than 6,5000 hanjian have been excavated in this area, accounting for over 56 percent of all hanjian unearthed around the country.
Wang Guihai, a history researcher at Beijing Normal University, said the content of the hanjian in Gansu indicated how Han emperors valued the safety of the Hexi Corridor, an important part of the ancient Silk Road.
Yang Mei, deputy director of Gansu Jiandu Museum, shared several stories recorded in hanjian including how a Han soldier wrote hanjian to borrow pants from a friend.
The event is co-hosted by the Gansu Provincial Cyberspace Administrative Office and news portal People.cn.