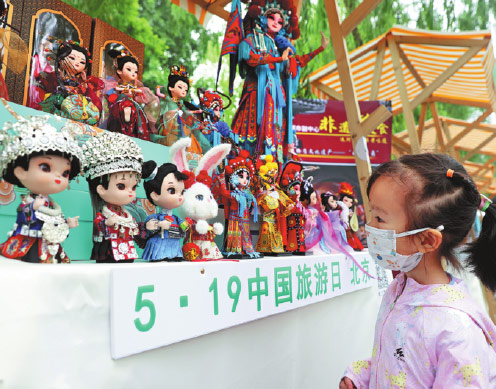 Tengchong in Yunnan leads events with high-quality development forum
China marked the 13th China Tourism Day on Friday, with a series of activities held across the country offline and online.
China Tourism Day was launched by the State Council in 2011. The date was chosen to commemorate the day when Chinese explorer and geologist Xu Xiake (1587-1641) started his 30-year-long journey around China.
This year's theme was "Beautiful China, Happy Journey" and Heshun ancient town in Tengchong, Yunnan province, was the lead venue for nationwide celebrations.
This year's China Tourism Day has five core objectives of promoting mass tourism, exploring the development of green tourism, accelerating the cultivation of smart tourism, advocating civilized tourism, and promoting the deep integration of culture and tourism, Li Xiaoyong, an official from the Market Management Department of the Ministry of Culture and Tourism, said at a news conference in April.
From Friday to Sunday, Tengchong is hosting multiple activities including a livestreaming event, a tourism product exhibition, a Baoshan intangible cultural heritage tourism exhibition and a tourism high-quality development forum.
A highlight on Friday was the country's first provincial-level report on low-carbon travel for Chinese tourism destinations being released at the forum.
This report fills the gap in China's low-carbon travel standards, said officials from the Yunnan Provincial Department of Culture and Tourism.
Other regions in Yunnan joined in the festivities. The famous tourism destination Lijiang Ancient Town presented folk culture performances on Friday, while Chenggong district in the provincial capital Kunming issued free tickets and digital coupons for its tourist attractions.
This year's celebrations featured a "themed week" and a "themed month" in a bid to enhance the confidence of those in the tourism industry, boost tourism consumption and promote the recovery the culture and tourism sectors, Li said.
During the themed week, from Sunday to Thursday, five cities of Yangzhou, Changsha, Haikou, Xiamen and Xi'an hosted multiple countdown events, with different themes such as green tourism, cultural tourism and smart tourism.
Haikou in South China's Hainan province, for example, held a large market from Tuesday to Thursday, which exhibited a variety of local specialties and tourism products.
The event was designed to celebrate the China Tourism Day and showcase Hainan's tourism resources to attract more tourists, according to the Haikou bureau of tourism, culture, radio, television and sports.
From Friday to the following Friday, Yangzhou in Jiangsu province will invite about 100 podcast hosts to tour its major scenic spots and promote the city via their online audio programs.
Yangzhou's Slender West Lake scenic area is operating a night fair of Tang Dynasty (618-907)-style from May 12 to June 30, offering visitors games, a hanfu (a traditional Chinese style of clothing) show and acrobatic performances.
Throughout May, Beijing is holding 162 tourism-related activities including free performances, lectures, and special exhibitions.
Hundreds of scenic spots, museums, libraries and hotels in the capital are offering discounts to benefit local residents and tourists.
Additionally, 10 nationwide promotional events will last until the end of May, involving numerous cities, airlines and travel agencies.
During the May Day holiday, from April 29 to May 3, the country saw a long-awaited boom in tourism due to the optimization of pandemic control measures earlier this year.
Both the number of visits to domestic attractions and tourism-related revenue exceeded the figures of the same period in 2019, according to data from the Ministry of Culture and Tourism.