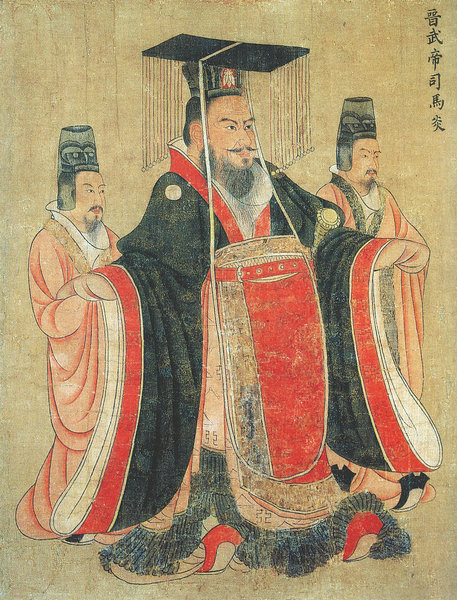 New book examines the Silk Road's pivotal role in shaping the fate of rulers, dynasties and the nation as a whole, Zhao Xu reports.
Galloping horses and their mallet-wielding riders — these are the images that adorn one of the walls within the burial chamber of Li Xian (655-684), a prince of the Tang Dynasty (618-907). Li had the good fortune to have been born while the empire was at the height of its power and influence, and the bad luck to have been entangled in a political struggle much fiercer than the battle on the polo field that entertained his afterlife.
Viewers of the mural see it as showcasing a typical leisure activity enjoyed by the Tang social elite, which, not unlike many other aspects of their life, had been heavily influenced by foreign elements that were imported via the Silk Road. Yet the picture is not complete until one casts a glance toward the opposite wall, where a group of envoys, their identity indicated by their distinct appearance, can be seen socializing with their Tang hosts. Together, the athletes and the spectators tell a story discernible only by someone who has studied the Silk Road and its travelers in depth.
"The polo court was a key place — apart from the palace — where the Tang emperors gave an audience to visiting envoys. It was where diplomacy was conducted and the potency of the empire put on visual display," says Wen Xin, assistant professor of Eastern Asian studies at Princeton University and author of the book The King's Road: Diplomacy and the Remaking of the Silk Road, published by Princeton University Press.
"There was also a polo field in Dunhuang, where a delegate sent out by the Tang court would routinely deliver the royal edicts to the local governor," continues Wen, who has used Dunhuang, a Silk Road juncture under the rule of the central government during the Tang Dynasty — and, later, the Northern Song period (960-1127) — but was run with a high level of autonomy, as a focal point to construct his narratives.