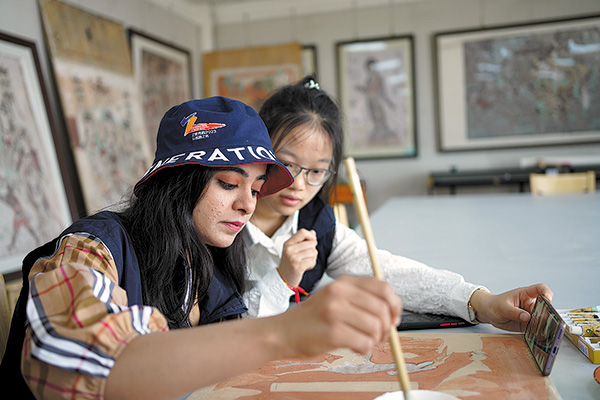 When Juni Stefanus Santoso from Indonesia rode a camel in a desert in Dunhuang, Gansu province — an important cultural hub on the Silk Road where cultures from the East and the West met and mixed hundreds of years ago — he felt like he was "stepping into another world" that was exotic, and very different from his previous impression of China.
On a four-day trip to Dunhuang in late April, Santoso, together with other foreign students, mostly from nations along the Silk Road, embarked on a cultural journey to explore the desert landscape, visit the local museum, the Mogao Caves and craftsmen who paint murals and produce Buddhist statues, and communicate with students from the Dunhuang College of Northwest Normal University. All of these activities offered the 23-year-old Indonesian an immersive experience, through which he could soak in the culture of ancient China.
"It was so amazing. I never knew that there would be camels in China. It's like another side of the country," says Santoso, who began to study for his master's degree in computer science in Tiangong University in Tianjin last year.
Before he came to China, he thought it was a country full of technology-related companies — an impression that was bolstered by the fast and convenient technology-driven services that came to be a part of his daily life when he moved to Tianjin.
"I was impressed by China's science and technologies before coming to China. Here, everything is very convenient and interconnected. You can do everything on your phone," says Santoso, referring to services like electronic payment and online shopping.