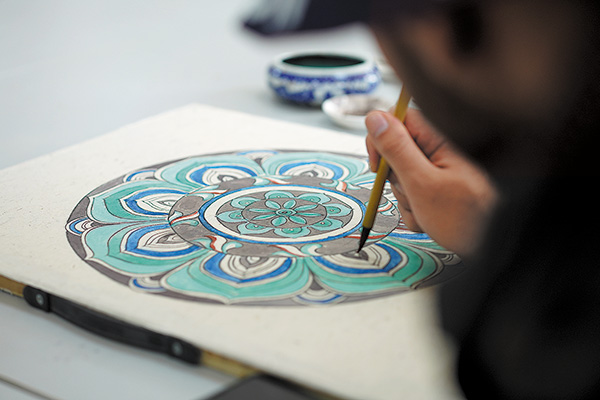 The cultural trip, however, showed Santoso a view of China when art and goods were transported along the Silk Road more than a thousand years ago. The young man says he was taught a little bit about the Silk Road in his middle school history class.
His grandmother was a Chinese-Indonesian. He was even given a Chinese name, You Liangshan, when he was born. Every year, his family celebrates the Chinese Lunar New Year and they send red envelopes filled with money to young family members — a Lunar New Year tradition.
Santoso says he became interested in Chinese culture as a child. He even learned Chinese calligraphy for half a semester, which helped a little when he was invited to an ink painting with a Chinese artist.
All the students taking part in the cultural trip, organized by the China Public Relations Association, were invited to paint a picture together, although it was their first time drawing with ink on rice paper.
Ink painter Zhang Lucheng taught them how to do it and helped improve the painting. Zhang asked the students to carefully observe camels when riding them because camels would be the subject of the painting.
"The camel is a cultural symbol on the Silk Road. It can also be seen as a medium to spread art and culture along the route. Perceptions of camels by people across the globe are the same," explains Zhang on why he chose camels as a subject for these students, most of whom had never experienced using an ink brush before.