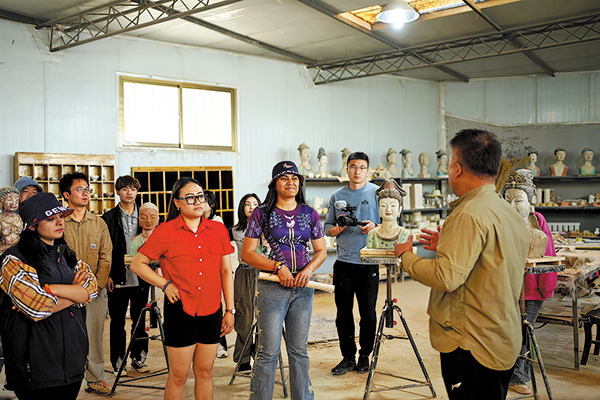 Fazila came to Beijing for her master's degree in 2019. She is from Lahore, the second-largest city in Pakistan, which boasts many historical landmarks.
She is also interested in Chinese culture. The Dunhuang trip for her is about gaining knowledge.
"I explored so many things about the tradition, the history, the religion and the mural art. I hope to stay in China in the future to learn more about the country," she says.
At the Dunhuang college, Fazila and other students were grouped with art students to color patterns copied from Dunhuang murals, which was "a very different artistic experience", she says.
Ink painter Zhang says that the murals are essential learning for Chinese ink painters, who want to enhance their skills.
When Zhang was in his 20s, he stayed in Dunhuang for several years to learn from the murals. At that time, even the harsh environment couldn't smother Zhang's passion to learn. "The art in Dunhuang is a mix of the world's art. For Chinese artists, it influences our skills and is a source of creativity and inspiration for our production," says Zhang.
The cultural trip is part of a program, titled Generation Z 2023: The Future of the Silk Road, to invite students from various cultural backgrounds in China to experience Chinese culture. It has also organized another two trips, including one for music and one for food, which took place late last month.