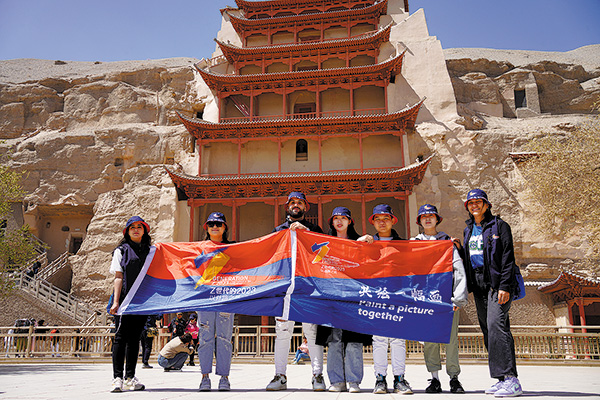 "Painting from Europe and Asia blends with Chinese art in Dunhuang. Chinese art started here and was spread to the world, only to return to China after being mixed with the art of other nations," adds Zhang.
Santoso says he can tell the difference between the Buddha figures painted on the murals and those in his culture. As a Buddhist himself, he was fascinated by the art in the caves.
Jalil Fazila from Pakistan was also stunned by the murals and their bright colors, as well as their good condition after more than 1,000 years.
"For me, painting is an activity through which we can express our feelings with a pen and vivid colors. It's a convenient way to spread a message and enable people in other places to understand us," says the 26-year-old doctoral student from the University of Science and Technology Beijing. She painted a camel on the rice paper, which she says looked "very weird" compared with Zhang's. Her first time painting inspired her to learn more about Chinese culture in the future.
Fazila's most memorable experience on the trip was her spontaneous dancing with students from the Dunhuang College of Northwest Normal University, where Fazila and her peers were taught a Dunhuang-style dance, choreographed based on figures depicted in the murals at the Mogao Caves.
The costumes that the dancers wore are similar to those worn in one province of Pakistan, says Fazila, and their moves and gestures reminded her of Indian dancing, which is also similar to that of her hometown. "I don't know what made me dance spontaneously with these men and women. Maybe the environment, the passion or the music. At that moment, I just wanted to dance with them. So amazing and exciting," says Fazila.
She danced in her own style while surrounded by other students performing the Dunhuang dance. She also invited these local dancers to join her in performing to a piece of Pakistani music.