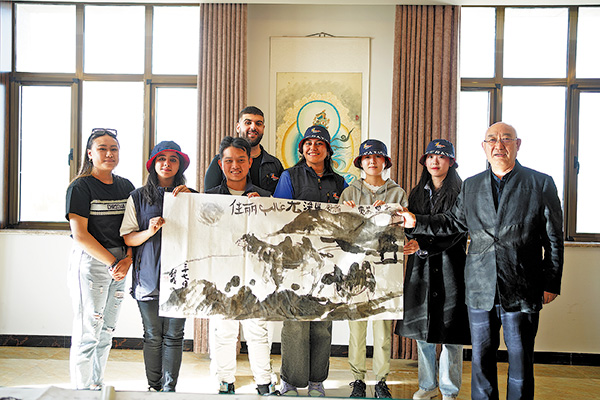 Zhang's style is daxieyi, an abstract ink painting that uses relaxed freehand techniques. In just several strokes, with Zhang's deft brushwork, the camel takes shape and the desert appears.
"Daxieyi demonstrates a kind of Chinese philosophy. You don't draw everything in detail, but leave a space for viewers to imagine," he says.
"The landscapes along the Silk Road are magnificent. Mountains, grasslands and desert, they are all very splendid and grand. Applying daxieyi style enables us to express that in the best possible way."
Zhang drew a camel in the center of the painting, and students added in other elements, such as the sun, the footprints of the camels, mountains, plants and houses. Finally, they were encouraged to write their names on it in their own language to jointly complete the painting.
The artist says the creation process was interesting. It's a mix of people from various cultural backgrounds, just like Dunhuang, where art from the East and the West combines with each other.
He mentions the Mogao Caves, which the students visited. The UNESCO World Heritage Site is home to hundreds of grottoes that house thousands of murals and statues and is one of the finest Buddhist art collections in China. Traces of how the art was introduced to China from the West and localized by Chinese artists can be easily found in the murals.