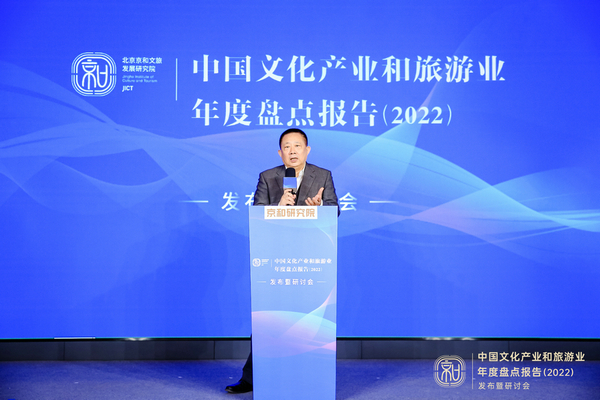 Bing Dwen Dwen, Digital idols, NFT artworks, camping craze and China's tea-making technique… We can hardly summarize China's cultural and tourism industries of last year without mentioning those buzzwords.
A press conference was held in Beijing on Feb 25 to publish the Annual Stocktaking Report on China's Cultural Industry and Tourism (2022), by Jinghe Institute of Culture and Tourism, a think tank specializing in studying China's cultural industries and tourism sector.
Fan Zhou, director of the institute, gave an overview of the five-part report, which summarizes the major cultural and tourism events of 2022, describes what characterized the development of China's cultural industries and the tourism sector in 2022, takes a deep dive into the issues facing their development, and offers 10 predictions for the two industries in 2023.

Fan pointed out that, because of the pandemic and the downward pressure on the economy, 2022 saw a supply contraction of cultural products and people's cultural and tourism consumption was significantly depressed. Yet, digital technology has emerged as a major driving force for the cultural and tourism industries and Chinese TV dramas and online literary works have continued to gain traction among overseas audiences. In addition, young people have remained loyal consumers of guochao products, which fuse fashionable designs and traditional cultural elements, indicating a rise of cultural confidence.
Releasing such a systematic review of the latest developments of China's cultural and tourism industries in the first quarter of 2023 serves as a good guide for industry practitioners, said Zhou Jiucai, a high-ranking official with the department of policies and regulations at China's ministry of culture and tourism.
This is the second time for the institute to survey the annual development of China's cultural and tourism industries. "To complete the 2022 report, we not only consulted scholars and researchers in this field, but also talked to government officials and businesses in the culture and tourism sector, to hear about their feelings and opinions," said Fan Zhou.