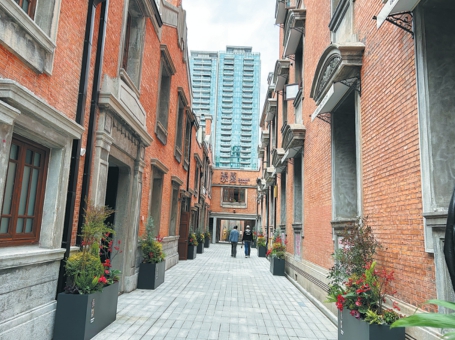 Shanghai's largest heritage complex has reopened to the public, and despite the introduction of modern elements, the former residential compound retains much of its old charm, Lin Shujuan reports.
It has been more than three years since Huang Min, a 68-year-old Shanghai resident, got the chance to revisit her former residential compound Zhang Yuan, a community filled with hundreds of shikumen houses in downtown Shanghai's Jing'an district.
Located just off Nanjing Road West at the corner of Taixing Road and Wujiang Road, Zhang Yuan, or Zhang's Garden, is widely known as Shanghai's largest, best-preserved and most diverse shikumen compound.
In January 2019, after more than 1,100 families living in 170 units in the compound's 42 historical buildings were relocated, Zhang Yuan became the first urban renewal project in Shanghai to implement a protective expropriation plan.
The local government has since spared no effort in restoring the compound to its former glory.
After nearly four years of renovation, the western part of the compound, which consists of 16 buildings that currently serve as venues for international brands such as Louis Vuitton, Vacheron Constantin and Moet & Chandon, was reopened to the public on Thursday.