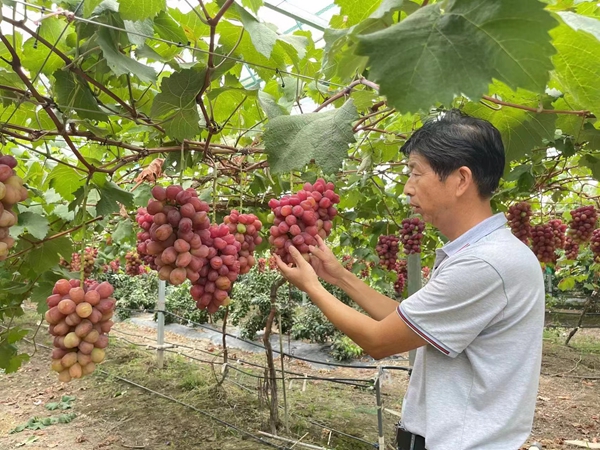 Farsighted grape farmer uses family skills and modern technology to draw tourists to a once-sleepy East China village, Yang Feiyue reports in Jiaxing, Zhejiang.
Editor's note: China Daily profiles ordinary people doing incredible things in the cultural sphere as the country has advanced over the past decade.
Life is "berry" cool for Tang Jianqin right now. The 58-year-old grape farmer from Majiadang village in Jiaxing, East China's Zhejiang province, has had juicy sales since the beginning of the harvest season in June, and orders have been placed through October for the final picking.
"I introduce at least one new grape variety every year to keep up with the dynamic fruit market and its changing demands," says Tang, who has developed considerable business acumen over the years.
"The wholesale fruit hub in Jiaxing is among the biggest of its kind in the country and offers timely information on market trends," he adds.
Earlier this year, Tang introduced a new grape variety that is devoid of seeds and twice the size of its garden-variety counterparts. It also features a pleasant carmine luster, has firm flesh and is delightfully sweet.
In late August, this awesome variety won the gold prize at a competition hosted by the Jiaxing grape association to encourage local farmers to raise the quality of their produce and create some buzz to promote sales.
Tang's new grapes are already out of stock, sold at 60 yuan ($8.7) a kilogram, about six times that of ordinary varieties. He admits that he owes his incredible success to today's technologies. "WeChat groups have bridged the gap between planters and agricultural experts. One can share problems and find solutions in no time."