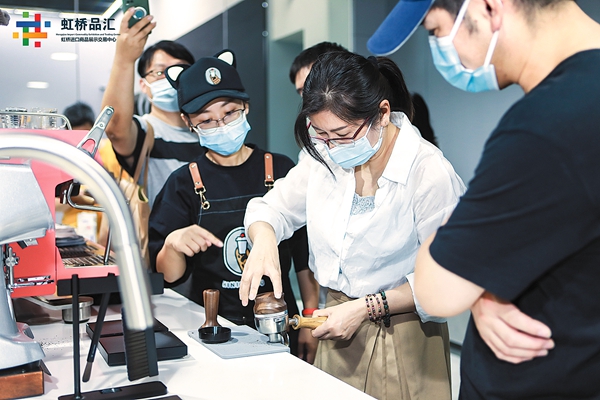 A new project aims to train people with visual or hearing challenges to become professional baristas, He Qi reports.
The coffee sector has a buzz about it these days as people who were once overlooked for employment are given an opportunity to make it in a career that's full of beans.
The initiative was launched at the Shanghai Coffee Culture Week which also saw companies set up pop-up cafes, hold tasting sessions and showcase how adept robots are at making coffee.
This year's event, which took place from Aug 4 to 18, witnessed the inauguration of the Chaofan Barista Training Base. It will provide candidates with visual or hearing challenges a venue to become professional baristas.
Located within the Hongqiao Import Commodity Exhibition and Trading Center, the training base is run by Hinichijou coffee shop, which opened the city's first cafe that is solely run by visually impaired baristas in July, according to the coffee chain's co-founder Wang Tian. All lessons are for free. The reason for setting up the base was because there were many people with physical challenges who wanted to become baristas, but there were not enough places.
"The new shop will only be able to train one barista a month," says Wang, who is also head of the training base. "We thought that was too slow. The training base, on the other hand, can train more than 20 baristas in a month."
He says the program will include practical and theoretical lessons. For starters, the trainees will learn how to use fully automatic coffee machines before they learn how to use semi-automatic ones. More than 30 people have already signed up for lessons, which will be conducted by both baristas, as well as those with physical challenges.