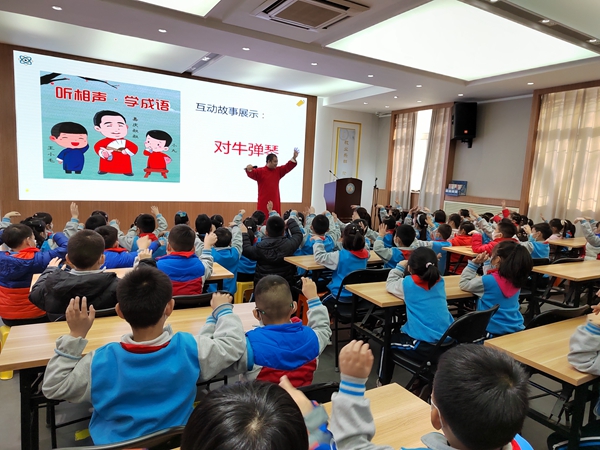 Cross-talk performer in Beijing gives the old Chinese art of mirth-provoking banter a fresh lease of life through his podcast channel, with a section exclusively curated for children, Chen Nan reports.
Life is so much easier when you have a sense of humor. Zhang Jiaqing knows it because he lives it.
For a stable income, Zhang once worked at an insurance company in Beijing during the day. But every evening, he swore by xiangsheng, one of the oldest comedic traditions in China.
He performed at theaters big and small, sending his audiences into fits of laughter and coming one step closer to his dream career in the process.
Many years later, Zhang is not just a master in this art of comedy, commonly referred to as cross-talk, but has also taken xiangsheng to a whole new level by podcasting programs that currently boast millions of listeners.
Born and brought up in Beijing, Zhang loved watching cross-talk shows on TV or listening to comic jousts on radio. The affinity for the art was perhaps in his genes because his father was an amateur performer.
The little boy, who had been immersed in the art since childhood while being influenced by his father, picked up the finer nuances of xiangsheng even before he began formal training.
Cross-talk routines, which are heavy on puns and usually employ the double act trope of a straight man and a stooge perpetually at philosophical odds, require the mastery of four core skills-speaking, imitating, teasing and singing. The art gained popularity in northern China during the Qing Dynasty (1644-1911), when street performers in traditional attire were frequently seen leaving everyone in splits.
In 2006, Zhang began honing his skills under the tutelage of Guo Degang, one of China's most famous comedians and founder of the Deyunshe cross-talk club. Guo is largely credited with reviving xiangsheng by attracting young audiences.
Throughout his training under Guo, Zhang performed more than 1,000 shows at various theaters, which helped him improvise content and directly interact with those who came to watch his acts.
Seven years later, when China's biggest podcasting platform Ximalaya was floated, Zhang launched his own channel.
As one of the first podcasters on the platform, he livestreamed a variety of programs for fun. These included cross-talk routines, pingshu (a traditional Chinese form of storytelling) and interpretations of classic Chinese novels, such as Journey to the West, written by Wu Cheng'en in the Ming Dynasty (1368-1644).
Zhang's programs received 5 million clicks from listeners in six months.
"The podcast market began growing in China after 2010. When I launched my channel on Ximalaya in 2013, I decided to include xiangsheng. The performing art was facing decline since the 2000s, owing to fierce competition from online entertainment, and I wanted to do something about it," recalls Zhang.
"I didn't expect my programs to become so popular though," he modestly adds.
In 2014, when Zhang's son was born, he found new inspiration and improvised his cross-talk routines to tell bedtime stories.
"As a child, I was fascinated by xiangsheng, not only because it made me laugh, but also because the content offered an insight into Chinese culture," he says.