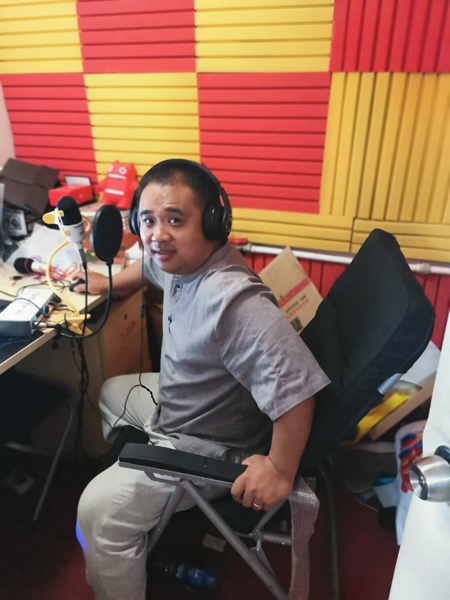 "As a father, I realized it was a great way to both entertain and educate my boy."
Chinese literature is replete with idioms and each has a story behind it. Zhang remembers how he used a cross-talk act to teach his son the idiom huashe tianzu, which literally translates into "drawing a snake with feet". Metaphorically, it means "unnecessary behavior".
His son was thrilled and kept asking for more such stories.
Zhang encouraged his son to retell the stories and was pleasantly surprised when the little boy weaved in his own individual interpretation.
"It is so different from letting children recite poems, which they usually learn by rote and there is little scope for full comprehension," he says.
"Every child is different and they interpret things differently. Allowing them to choose their own words and imagination to narrate a story can have brilliant results."
Buoyed by the feedback from his son, Zhang turned Chinese idioms into 60 cross-talk routines for his channel in 2016, and these have been listened to about 140 million times.
The success prompted the master of wordplay to create as many as nine series for children. They cover a wide range of topics, from classic books to history and culture.
Cross-talk for adult audiences may involve wisecracks on social issues and family affairs. For children, the jokes are simple.
"The idea is to ensure kids relate to the stories told. Hence, the puns need to be easy to grasp," Zhang says. "Thanks to my son and his friends, I know what can make children laugh."
His experience in performing at theaters comes in handy when he needs to improvise and keep his young audience engaged.
He often combines his singing with kuaiban, a folk art where storytellers add the rhythmic sound of bamboo or brass clappers to their vocal performances.
Zhang's one and only objective at present is to keep children interested in this time-tested art of comedy.
"I want to make learning fun for kids and xiangsheng is the tool I have chosen," he says.
A full-time podcaster now, he writes anything between 3,000 and 5,000 words a day to update content for children on the platform. He has written over 300 stories so far.
His cross-talk series on Chinese idioms have been turned into a comic book, which was published on July 20.
"I drop my son to school in the morning and pick him up in the afternoon. On our way, we talk about stories I am working on," Zhang says. "He is the source of my inspiration."