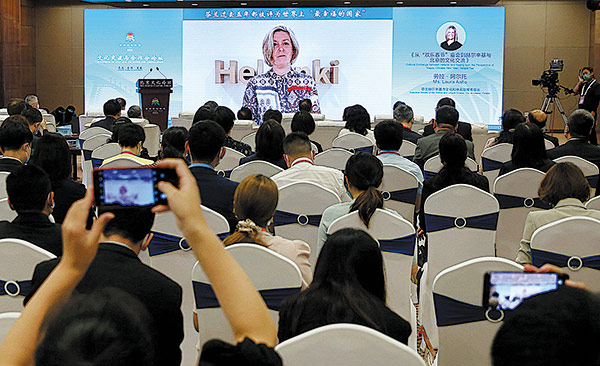 A subforum of the Beijing Culture Forum invited officials and experts from home and abroad to share their lessons in conducting cultural exchanges and cooperation and probe how to better tell the stories of Beijing and China at large to the world on Tuesday.
Speaking about how to assist exchanges and mutual learning among different civilizations, Wang Ning, dean of the National Centre for the Performing Arts, said each civilization has its own charms and history. Different civilizations should respect and learn from each other to achieve common progress.
"The National Centre for the Performing Arts is willing to serve as a bridge for international cultural exchanges," he said, adding that they would like to carry out more collaborative works with foreign cultural institutes to create a rich scene of performing arts for people from around the globe.
Laura Aalto, executive director of the culture and leisure division at the city administration of Helsinki, Finland, spoke in a video speech.
She said that Chinese New Year Festival performances have been held annually in Helsinki since 2006, enjoying great popularity among an audience from diverse cultural backgrounds.
The Finnish capital has also held cultural activities in Beijing to bring Chinese people closer to its Nordic culture, she added.
She noted that frequent cultural exchanges among countries show the beauty of cultural diversity and help to build a fully connected and better world.
Additionally, statistics from the Beijing Culture Industry Development White Paper released at the Beijing Culture Forum show that the city has maintained growth in its trade in cultural products and cultural exchanges with foreign countries.
In 2021, the city's total foreign trade in cultural products reached $6.13 billion, up 65.7 percent year-on-year.
Huang Youyi, executive vice-president of the Chinese Translators' Association, said that Beijing is ancient and international at the same time.
He praised Beijing's inclusiveness to different cultures and its outstanding capability to provide services in multiple languages.
"You can hear different dialects and languages in the city. A larger number of foreigners are living here," he said. "You can see foreign artworks and performances being displayed in the city."