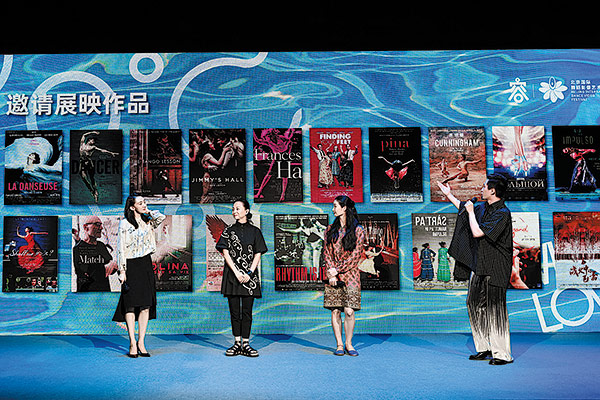 Innovative video festival in Beijing will showcase works by Chinese and foreign artists, Chen Nan reports.
The COVID-19 pandemic has forced many dance companies to put shows on hold and postpone plans. However, it has generated new ideas for the troupes to experiment and move beyond virtual shows as a way to revive live performances.
Earlier this year, Gao Shan, a teacher of creative studies at the Beijing Dance Academy, came up with the idea of displaying dance videos of his students made during the pandemic. This has been developed into a larger event to showcase videos from Chinese dancers and choreographers, and international dance companies.
The Beijing International Dance Video Festival was launched on Tuesday, and it will be a part of the 12th Beijing International Film Festival, running from Aug 13 to 20.
With a theme of "more love", the Beijing International Dance Video Festival will feature six sections, showing audiences how dance has been combined with videos and how the language of dance has been interpreted through the videos.
"When I was a young student, I was deeply touched by dance works I watched on TV and in movies. With the development of technology, dance videos have been developed and become a new language to deliver dance works," says Gao, mentioning that two dance works he watched on TV impressed him the most as a young dancer: Spirit of the Peacock, an award-winning work choreographed by Yang Liping, which was inspired by the lithe and graceful hand movements of the bird-related dance of the ethnic Bai people from Yunnan province, and Pina, a dance movie by the iconic dancer-choreographer Pina Bausch and her longtime friend, filmmaker Wim Wenders.
"The impact of the pandemic is way beyond our imagination. It has heavily affected the performing arts industry. However, our artists are so creative that they used cameras to record and show dance works in a way which is very different from tradition," says Pan Yan, secretary-general of China Association of Performing Arts.
"We are very excited to see how artists try to dance though they cannot dance in theaters. They keep the dancing scene vibrant and keep the audiences engaged."
The festival has invited Chinese dancers and choreographers to submit their dance videos. From over 300 dance videos, the committee of the festival selected 91 that will be screened during the festival.
"We are surprised to watch those videos because of the creativity of the artists," says Willy Tsao, one of the pioneers who brought contemporary dance to China in the 1980s. "They have a wide vision about dance, which is traditionally staged indoors. They were inspired by their life changes during the pandemic and they reflected upon the relationship between dance and themselves."