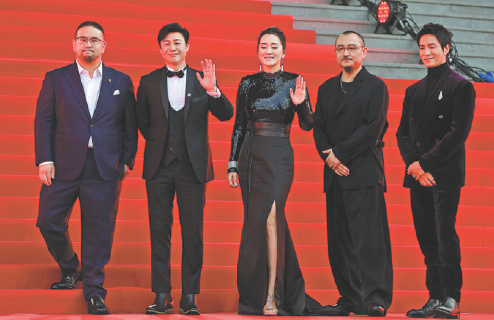 Gong Li's latest film, a spy thriller, closes this year's Beijing festival, Xu Fan reports.
In the winter of 2002, Zhang Songwen, who is now an award-winning actor known for the smash hit The Bad Kids, stumbled upon a tale about Gong Li, an internationally recognized Chinese film star.
Then working as a teaching assistant at the Beijing Film Academy, Zhang had rented an apartment from another actor, Liu Peiqi, who told Zhang he could also use his cotton-padded jackets to keep warm in the chilly weather of the city. A native of South China's Guangdong province, Zhang felt quite cold one day and opened Liu's closet and saw a red-cover notebook, with the writing, "Work log from the shooting of The Story of Qiu Ju".
In 1992, the film, starring Gong as a rural pregnant woman who stubbornly seeks justice, won the Golden Lion, the top award at the Venice International Film Festival, and also earned her the best actress award. The film was helmed by China's top director Zhang Yimou, with Liu playing a major character in it.