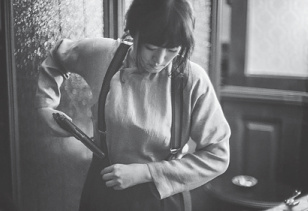 "Every character is special for me. So I learn special techniques to play them or try to get used to their living environments," she says.
Gong recalls practicing holding and waving paper fans every day for months to prepare for a short scene in the Oscar-winning Memoirs of a Geisha (2005).
Gong made her acting debut in 1987 with Red Sorghum. The film, also directed by Zhang Yimou, won the Golden Bear at the Berlin film festival. Gong then acted in Farewell My Concubine, helmed by another well-known Chinese director, Chen Kaige, in 1993. It won the Palme d'Or at that year's Cannes Film Festival.
Gong has maintained a record of being the only Chinese actress whose movies have garnered top awards at Europe's most prestigious festivals.
When shooting her latest film, Saturday Fiction, Gong, whose character leads double lives as both an actress and a spy, trained to swiftly load a firearm in darkness, repeating the process many times until the skill "almost turned into a physical instinct".
"The fan-waving scene in Memoirs of a Geisha lasts for just a few seconds. The gun-loading scene was cut from the final version of Saturday Fiction. But it's fine. I can understand the directors' decisions," says Gong, adding that intensive training can help an actress to "become" her characters by possessing techniques or skills.
Gong shadowed Lang Ping, the former head coach of the national women's volleyball team, for two weeks to observe and learn how she talked and gave instructions, as an effort to realistically portray the legendary figure in director Peter Chan's sports blockbuster, Leap (2020).