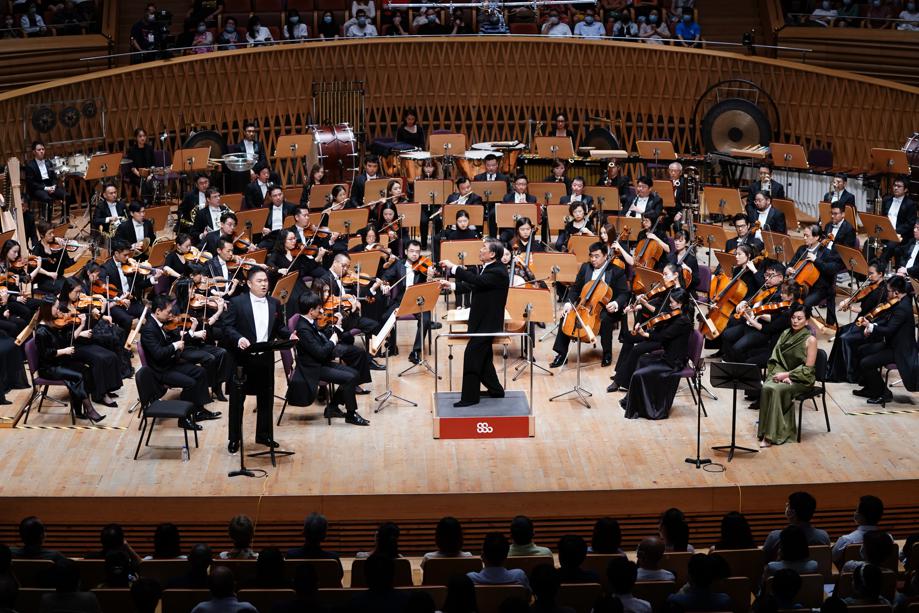 The Shanghai Symphony Orchestra kicked off its 2021-22 season on Sept 4, with a concert entitled The Song of the Earth. Because of the COVID-19 situation, the singers are different from those that featured on the album from Deutsche Grammophon, which was recorded last December and released in July. However, the concert featured the same pieces as on the recording: Austrian composer Gustav Mahler's song symphony Das Lied von der Erde, and Ye Xiaogang's composition, The Song of the Earth, both of which are inspired by the same batch of ancient Chinese poems.
Yu Long, conductor and music director of Shanghai Symphony Orchestra, waved the baton on the recording as well as at the concert. It was also Yu, who commissioned Ye's composition in 2005. A renowned composer, Ye has been a professor with the Central Conservatory of Music.
Mahler set his famous song symphony to a series of works by several Tang Dynasty (618-907) poets, including Li Bai, Wang Wei and Meng Haoran, which were translated to French, then to German. Yu said that the original Chinese texts contained more subtle and richer meanings that provide space for artistic imagination. Believing it is of vital importance to introduce the philosophical and aesthetical depth of Chinese culture to the world, the maestro later invited Ye to compose a new interpretation of the same poetry, which resulted in Ye's composition of The Song of the Earth.
Yu says that the two pieces on the album formed a picture of the European and Chinese understanding of fundamental human emotions, such as love, friendship, happiness and death. He compares the approaches of the two musicians to the same kind of emotions, as one of oil painting (Mahler's), and another of watercolor (Ye's).
The album came out during a much-needed period, when-due to COVID-19 pandemic and other estrangement or conflicts-"people of different cultures were never so distant from one another," Yu said in a news conference before the concert.
"This makes it more important to channel communications between cultures, and realize how different cultures have different expressions, but we can feel for, and understand each other."