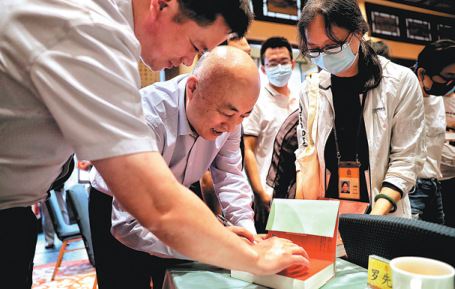 The Palace Museum in Beijing released its calendar for 2022 on Sept 6 although the Year of the Tiger is still more than four months away. Nevertheless, for fans of traditional Chinese culture, the long wait is over.
"The calendar has become a new way for many people to record their life," Chen Lihua, editor-in-chief of the calendar, says. "It's also a way to give publicity to our recent academic achievements in simple words."
Though printed calendars seem to have lost their functionality in the digital era, the museum's exquisite calendar has become an item to collect. On each page of the new calendar, a tiger-themed cultural relic from the inventory of the Palace Museum is introduced, ranging from a jade ornament in the shape of a tiger dating back some 5,000 years to paintings created by modern Chinese masters such as Qi Baishi and Zhang Daqian.
"The tiger is an auspicious symbol in traditional Chinese culture, which stands for strength and energy," Chen says. "We want to reflect tiger-related culture from various facets."
Many other cultural relics-weapons, props used in stage performances and costumes-unveil the symbol of power from different aspects in the new calendar.