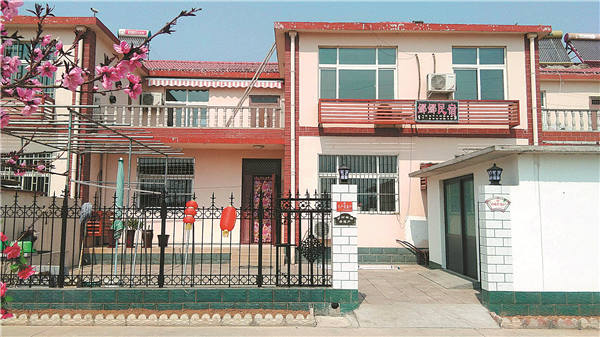 People in Xibaipo and its neighboring villages have made three major historical contributions to the country over the years, according to Zhang Rong, head of Xibaipo town, which includes Xibaipo village.
"When the CPC Central Committee arrived at Xibaipo in the 1940s, villagers donated their food, money and houses to the CPC leadership so that they could live and work here. In the 1950s when Gangnan reservoir was built to protect people who lived in the lower reaches of Hutuo River from floods, many people gave up their fertile farmland and migrated to other places.
"In the 1990s people started to raise fish in the reservoir bays, but had to gave up when the local government issued a regulation banning fishing to protect the local ecology several years later," says Zhang.
In the '90s, Xibaipo's red tourism began to develop rapidly. "Starting in Xibaipo village, then other villages in Xibaipo town, people changed their houses into homestays, restaurants and shops selling souvenirs," says Zhang.
Today, red tourism flourishes in Xibaipo town. The former site of CPC Central Committee in Xibaipo and a memorial hall have opened to the public. The scenic spot can receive more than 5 million visitors a year, and local people mainly gain their income from tourism.
Close to Xibaipo Memorial Hall, Liangjiagou village witnessed an improvement in people's lives after local people jumped on the red tourism bandwagon and started to run homestays.
In 2012, Chen Zhipeng and his wife, Qi Nana, decided to go back to their hometown in Liangjiagou when they were expecting their child. They had worked in Beijing for several years, but they were afraid that burden of raising a child in the city would be too much.
Several years ago, the local government decided to promote the development of the village through tourism, improved the infrastructure and helped renovate people's dilapidated houses.
"We saw the great changes in our hometown, and believed we will live a better life here," says Qi.
Qi first worked as a tour guide at the memorial hall, and when she found out that tourists were having difficulty finding decent accommodation in the area, she changed her house into a homestay.
After years of development, Qi's homestay has become a successful endeavor. "People from all around China come to our homestay, and many of them are regular customers," she says.
When other villagers saw that running a homestay could be lucrative, they also followed suit. Currently, around 40 households have joined the trend and opened homestays in the village. The village cooperates with a company to manage them in a unified way so that they can provide better service.
Qi's husband Chen drives an electric vehicle to pick up and take tourists to their destinations around the scenic area. At first, it was just him, but when more people joined the business, the village cooperated with a company to, again, manage it in a way that ensures unified standards.
"The company organizes the villagers, assigning them to a duty roster according to the number of visitors in the scenic area. Those not on duty don't need to go out and drive. In this way, we can make the business organized and efficient. The company and drivers then share the income," says Chen Zhijun, head of the village.
According to Chen Zhijun, there are 20 electric vehicles in the village now, and each driver earned about 130,000 yuan ($20,200) in 2019.
"We also built a fitness trail on a hill in our village so that people can exercise there while enjoying a bird's-eye view of Gangnan reservoir, and there are fruit-picking gardens stretching more than 30 hectares. We are developing ecology-based tourism besides our red tourism," he adds.
"Now, few young people in our village would like to migrate to other places for work, since our hometown has developed rapidly, and they can earn money and live a good life by staying at home," says Qi.