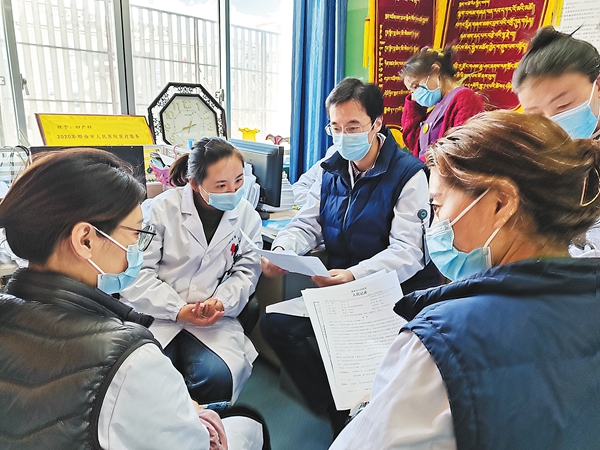 In the early 1990s, the central government began its medical aid project in the region. Each hospital in Xizang would cooperate with medical institutions outside Xizang and get funded in terms of staff and money.
Liu Yangchen, an obstetrician from the First Affiliated Hospital of Dalian Medical University in the coastal city of Dalian in Liaoning province, began his work in Nagchu People's Hospital in March. Altogether there are 18 medical staff for the cooperative project Liu attends.
Liu will work for one year and a half in Nagchu. Although the 40-year-old has stayed here for five months, he is still fighting with headaches caused by a shortage of oxygen.
"My family worry about my health. But they still support my decision," says Liu, a father of two.
In 2015, Liu traveled to Xizang for holiday and learned that the region is in need of doctors. When the aid project came up, he took part in it without hesitation.
As an experienced doctor, Liu has a full schedule every day. He has to treat deliveries, offer classes for local doctors, upgrade plans for the obstetrics department and fulfill them.
"To be honest, I'm stressed because I feel it's my mission to offer good classes to local staff and good medical service to patients here," he says.
He once helped eight women to give birth to babies in half a day. To accommodate the surging number of expecting mothers, Liu changed his office into a ward.
"I hope my efforts can make a little difference here," says Liu, standing in a delivery room that looks almost the same with those in Dalian's hospital.