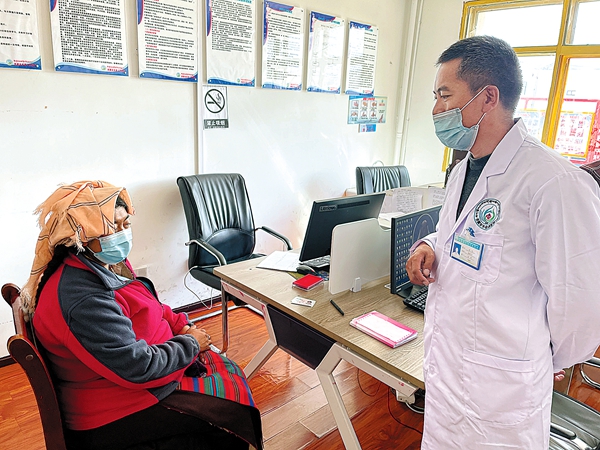 Medical workers in Xizang have updated facilities to provide treatment but conditions remain harsh, Deng Zhangyu reports.
When surgeon Dorje came across Drolma, an expectant mother who had just arrived at Amdo County People's Hospital in Nagchu city in the Xizang autonomous region by motorbike, he arranged everything quickly for the woman who was going to give birth to her fourth baby.
Though the 45-year-old doctor is in charge of the surgery department, he has experience in delivering babies as there is a shortage of doctors and medical care on the plateau.
"The medical care has improved dramatically in the past three years. In 2018, we still used stoves to burn cow dung for heating in wards," says Dorje.
Now, well-decorated buildings installed with modern equipment have been put into operation. A newly built delivery room with an inbuilt heating system is in place.
The delivery room is the busiest place in the hospital as more and more locals, most of whom are nomadic, choose to give birth at the hospital instead of at home, says Dorje, who is also director of the hospital.
It's common for a typical nomadic family to raise four to six children. They were used to giving birth at home, partly because there were few qualified clinics and hospitals to offer a safe delivery and partly because they couldn't afford the medical costs.
Drolma had her first three babies at the yurt her family lives in, which is about 100 kilometers away from Amdo county. Since conditions of the county's medical care have improved, she decided to give birth to her fourth child at the hospital. It took the couple seven hours to drive there by motorbike.