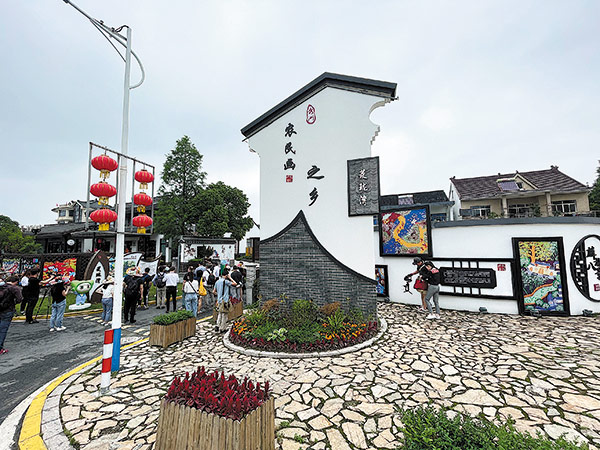 Colorful paintings capture the eye from the minute one sets foot in Linglongwan, Shengfeng village.
They can be seen on the white walls of the buildings that meander through wetland parks and along the banks of the rivers in the village of Youchegang town, Zhejiang province.
The paintings are made by local farmers and have become a distinctive feature of Linglongwan.
Ding Qiaoying usually spends two hours a day creating her paintings in the art center, situated right at the entrance of Linglongwan.
She usually comes to the center after she finishes her family chores.
"In the beginning, we learned to draw things related to our lives with guidance from a teacher, but now, we are often given a theme around which to create our paintings," the 67-year-old says.
Her artistic creations are mainly a result of her own experiences and imagination.
One of her paintings features boats packed in a river, filled with a cornucopia of goods.
"It's a depiction of the Beijing-Hangzhou Grand Canal, and those boats are from my childhood memories," she says.
Ding says the reason why she can concentrate her mind on artistic creation is the significant improvement of her life.
Living conditions were once much tougher.
"There were only mud roads," she recalls.