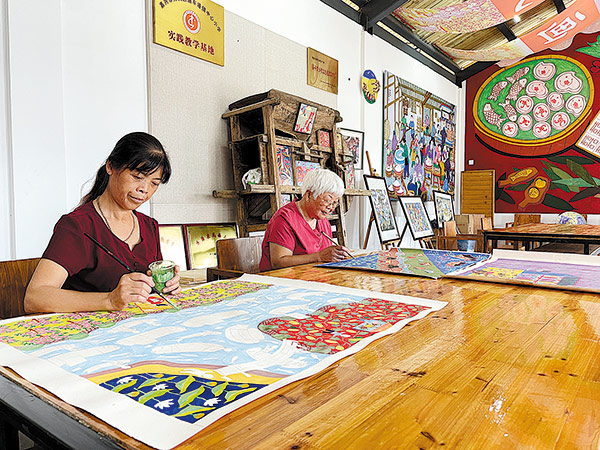 The shop offers visitors cake making and tasting experiences.
"We welcomed lots of people from outside the village during the Labor Day holiday," Chen says, adding that most tourists showed great enthusiasm toward learning to make cakes the traditional way.
About 100 meters away from the bakery, Zhang Laisheng runs a boatbuilding museum, where visitors can learn about local marine history and assemble a model boat of their own.
Zhang began learning how to build boats from his father when he was 16. "Dozens of local residents in the neighborhood used to engage in the business before," Zhang recalls.
Locals would use boats to travel to Shanghai, Suzhou and Kunshan in the old days, he adds.
The local authority has been striving to transform Shengfeng into a garden town since 2016.
A blueberry plantation, a succulent plant garden and a forest of Phoebe zhennan trees have been introduced, says Shengfeng Party secretary, Fan Zhixin.
Those distinctive industries have helped to draw visitors to the village and have become sources of income for local residents, Fan says.
The nurturing of the art and leisure activities in Shengfeng is just one area of positive change that has occurred in Youchegang.
The area has been a model for integrated urban and rural development over the years.
The Linhu wetland park has become a leading project of its kind, with characteristics typical of the lower reaches of the Yangtze River. It covers a total area of 212.9 hectares and offers superb ecological and cultural elements.
The Gingko Swan Lake, a themed ecological tourism site, has introduced 30,000 ginkgo trees and developed a sightseeing train along the shores of the lake, as well as a deer farm and water town with folk-style homestays.