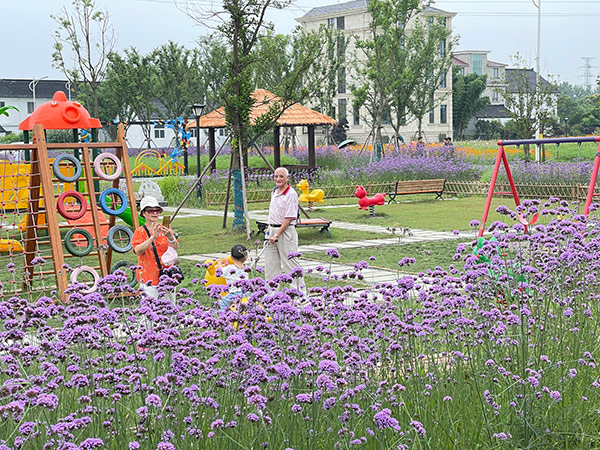 Youchegang town has also pushed for a pipeline network upgrade, promoting ecological technology application and implementing technical measures to build a sponge city.
Personnel have been assigned to publicize garbage classification and sort out, review and collect garbage to ensure a clean environment.
Shen Yan who has been working as a grassroots-level official at Youchegang for two years says that she has witnessed a big upgrade of the town.
More businesses have situated their headquarters in Youchegang, and an increasing number of talented businesspeople and entrepreneurs have laid down roots in the area, Shen says.
"At the same time, our local villagers have enjoyed increasing access to the conveniences of city life, and more urban residents have come to our village to feel the joy of nature and the rustic lifestyle," she says.
He Xiaojun moved to Youchegang eight years ago with his wife and is now working nearby.
"We chose this place because of its proximity to work, but nothing specifically caught our attention at the beginning," He recalls.
Yet, local infrastructure and environment has constantly improved ever since.
"It's nice to walk along the green belt after dinner with my family and visit the park," He says.
Along with his son, He also frequents the local library to learn and bond.
"I've come to think of the place as my second hometown, and my family and I are filled with a sense of belonging and happiness," he says.