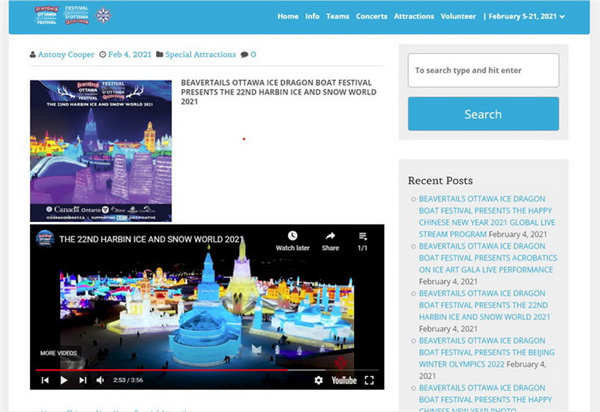 The Ottawa Ice Dragon Boat Festival, the largest of its kind in North America, has enjoyed an honored position among Ottawa's top festivals and tourism performers since its debut in 2016.
Due to the COVID-19 pandemic, the festival has shifted to a virtual format. From Feb 4, a wide array of photo and video exhibitions featuring winter sports and the festive Chinese New Year spirit are available online.
John Brooman, CEO of the Ottawa Dragon Boat Festival, said that the event's 2021 edition is part of Winterlude in Canada's capital region, and the festival is pleased to present Happy Chinese New Year virtual programs and celebrate Chinese New Year with the community, which is important to cultural diversity in Canada.
Brooman, a former sailing athlete, found the 2021 Harbin Ice and Snow World a truly amazing experience and said he looks forward to the upcoming livestream of the Acrobatics Gala on Ice by the Heilongjiang Acrobatics Troupe on Feb 19.