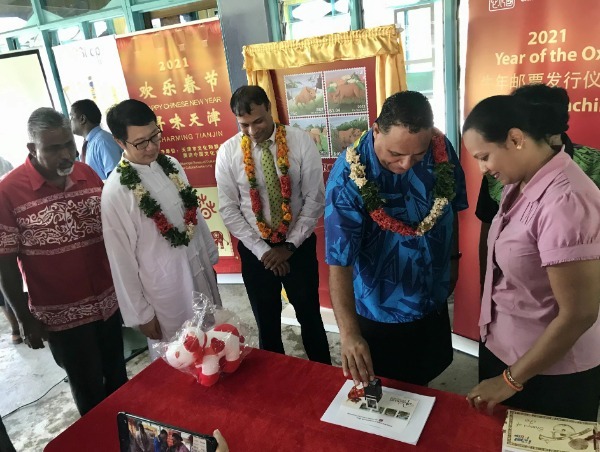 On Feb 8, Fiji local time, the launch ceremony for a series of cultural activities titled "Happy Chinese New Year • Taste Tianjin" was held at the Fiji Chinese Cultural Center.
About 80 people from all walks of life, including officials from the Fiji Heritage and Arts Department, the Fiji Post Co Ltd and the Fiji Chinese Cultural Center, attended the ceremony.
A set of "Xin Chou Year" zodiac commemorative stamps, issued by the Fiji Post Office, were unveiled during the ceremony.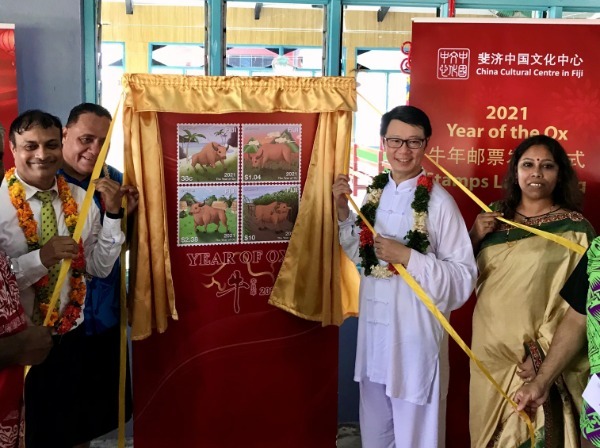 Designed by a team from the Tianjin Academy of Fine Arts, the set includes four stamps and a first day cover, with a theme of "Prosperity in the Year of the Ox". Its overall tone and background design highlight Fiji's natural landscapes such as sunny beaches and field villages.
Supported by the Tianjin Municipal Bureau of Culture and Tourism, the Fiji Chinese Cultural Center will also launch intangible cultural heritage courses during the Spring Festival. Featuring Tianjin Yangliuqing woodblock prints, Tianjin Yangliuqing paper-cuts, and traditional Chinese calligraphy, the courses will combine video sessions and hands-on experiences.