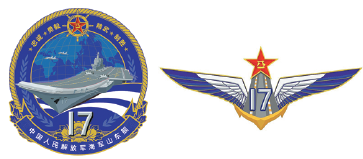 The emblem and logo of the Shandong. [Photo/China Daily]
"From the choice of fabrics for the caps to the detailing on the building blocks, each decision was made to present the quality of the 'made in China' brand," Xie says.
"In the future, we want to design new cultural and creative products about the Shandong so that people from different ages with different hobbies can get a feel for military culture."
Wang Yan, head of the China Institute of Marine Technology and Economy, says the design and release of the cultural and creative products of the Shandong will help to promote nautical and aeronautic culture in China.
The China State Shipbuilding Corp donated a selection of their products related to the Shandong to the Military Museum of the Chinese People's Revolution in Beijing on Jan 7.
He Qinglin, deputy chief designer of the Shandong, says that while his designs revolved more around engineering, Xie's designs were focused on art. He says the design of the Shandong's emblem and logo, and its cultural and creative products embrace the vitality of the ship.
"These cultural designs and products will help ordinary people to learn about China's first homegrown aircraft carrier," He says.
Contact the writer at liyingxue@chinadaily.com.cn