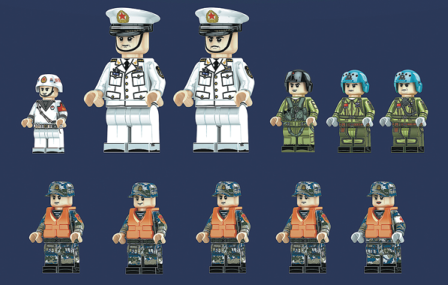 Some block figures representing different roles on the aircraft carrier. [Photo/China Daily]
The water motif below the Chinese characters "PLA Navy Shandong" originates from a pattern used in porcelain found in Shandong province that dates back to ancient times.
"The reason we put the water pattern on a ribbon is that we want to show that, even though the PLA Navy has a short history of 70 years, it's still part of China's 5,000-year-old culture," Xie explains.
To make sure each line of the drawing of the aircraft carrier on the emblem is exactly the same as the Shandong, Xie's team visited the vessel around a dozen times.
Compared to the emblem, which is bold and steadfast, the logo looks younger, more modern and dynamic-the wings of the eagle hold up the deck of the aircraft carrier.
Born and raised in Neijiang, Sichuan province, Xie has been a military buff since childhood.
He still remembers the day he stepped onto the Shandong for the first time. "My mind went blank for the first 10 minutes, and in my trance, I seemed to meet my 10-year-old self who told me that my dream of working with the army had finally come true by designing the emblem for the Shandong.
"Over the past two years, I've witnessed the Shandong moving closer to perfection. It's such a large ship that you could easily get lost on it."
There was one time when Xie visited the Shandong, when it was moored alongside the CNS Liaoning, China's first aircraft carrier."They looked so fantastic together, and they made me feel really small," he recalls.
Having graduated from Beihang University with a major in industrial design, Xie designed the trophy for the Red Star Design Award.
As a designer, he keeps to the rule that each piece of work he designs should be a masterpiece."The designer should always create work that comes from the soul. Without soul, your work will become an orphan, but if you do it properly, it will always stay attached to you."