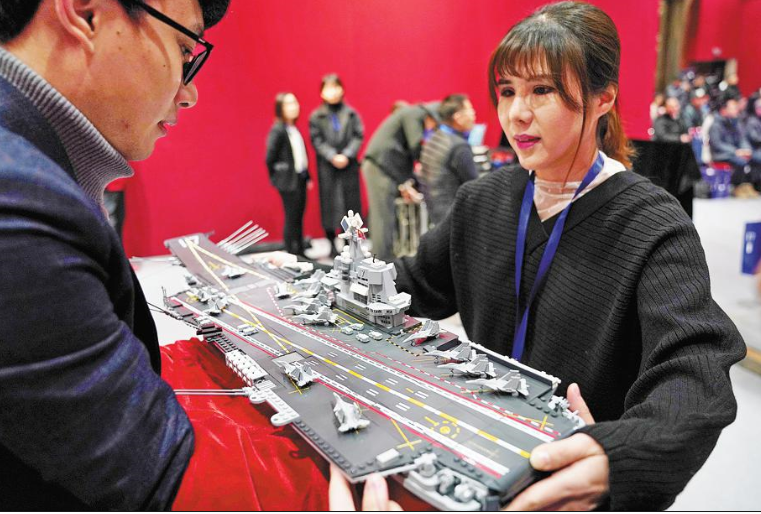 A building block model of the Shandong is unveiled on Jan 7 in Beijing. [Photo/China Daily]
The creative team that contributed to the logo and emblem of China's first home-built aircraft carrier has launched a range of products aimed at young consumers, Li Yingxue reports.
China's first fully homegrown aircraft carrier, the CNS Shandong, was delivered to the People's Liberation Army Navy at a port in Sanya, South China's Hainan province, on Dec 17.
Two weeks later in Beijing, a series of cultural and creative souvenirs and products related to the launch of the warship were unveiled, from emblemed badges and baseball caps to detailed models of the Shandong.
Xie Dahuan, chief designer of China Shipbuilding Culture and Technology Co, was tasked with heading a team to create the new emblem and logo for the ship back in 2017, and to develop a range of ancillary products that would appeal to younger Chinese consumers.
The 12 designers who joined Xie's team were all born in the 1980s and '90s.
Xie spent many sleepless nights in the run-up to creating the first draft of designs, and over the past two and a half years, Xie's team submitted a total of 28 designs for the ship's emblem and logo.
"Even though the 28 versions seemed to change a lot, we were glad that the overall design direction didn't really alter much from our first draft," Xie says.
"Some of our designers have grown from knowing nothing about the military to being able to tell the difference between every fighter plane and aircraft carrier,"Xie says."We were all very touched the day the Shandong was delivered to the navy."
According to Xie, the composition of the emblem shows planes taking off from the aircraft carrier out at sea, and the emblem has been designed in such a way that it can be seen on three levels from different distances.
"If you see emblem from 5 meters away, it conveys the momentum of the navy. If you are looking at it from just one meter away, you can tell it's the Shandong. But if you study the emblem even more closely, you pick out all the details in the design," Xie explains.