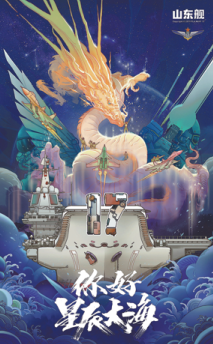 A poster that celebrates the Shandong's commissioning ceremony on Dec 17. [Photo/China Daily]
The Chinese blockbuster Operation Red Sea, which was released in February 2018, taking in 3.65 billion yuan ($530 million) at the box office, inspired Xie's team to project the image of the PLA Navy in a more cinematic way. "We thought to ourselves, 'why don't we design a range of cultural and creative products of the Shandong for the younger people?" Xie says.
Xie saw how good the navy soldiers on the Shandong looked in their uniform, so he wanted them to also look stylish off duty, and designed a baseball cap for them and fans of the Shandong to wear.
The baseball caps were developed by Capglobal, a company from Nantong, Jiangsu province, which is also one of the largest headwear manufacturers in the world.
The designers at Capglobal identified the characteristic Asian head shape and designed a special type of cap to fit Chinese people, a first for the company.
According to Xie, the cap is deeper than other models designed for the North American or European markets.
"The blue color of the cap is dyed twice so that it won't fade and will withstand temperatures that the soldiers onboard the Shandong will have to work in, which can be as low as-20 C or as high as 55 C," Xie says.
From caps to building blocks, Xie's team has designed a range of products related to the carrier, which are on sale at the Shandong Carrier Cultural and Creative online store on JD.