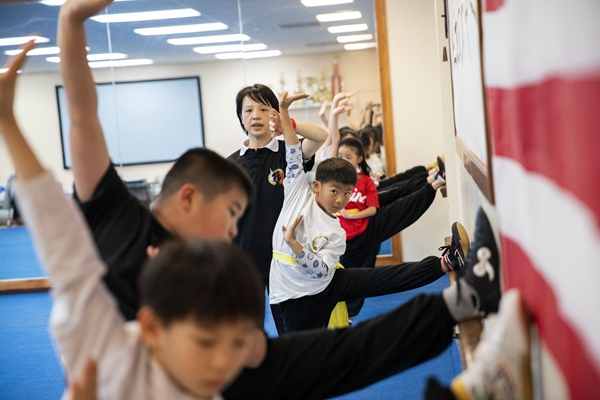 Lin teaches kids at the martial arts school.[Photo/Xinhua]
Frank Mandarino, who has been practicing tai chi for 11 years at Sitan Tai Chi and Martial Arts, says: "As an engineer and then a sales manager, I was on phone a lot and developed poor posture. I needed to get back into some healthy type of lifestyle after I retired, and I found tai chi."
He adds that he enjoys the challenge of tai chi, which he says is difficult as people need to coordinate their muscles with the movements.
"The more you do it, the more relaxing it becomes. It's almost meditative," says Mandarino, who is 81 years old.
Chen and Lin don't just teach martial arts. They also use it to promote Chinese culture.
"Language is one of the biggest barriers when discussing Chinese culture with foreign audiences, but since tai chi relies on body movements, there are no real barriers," says Lin.
She adds that tai chi performances in community centers are always well-received as local residents get to see what tai chi is all about for themselves.
"That's much more powerful than words," says Lin.
Chen, who is also the founder and chairman of the Tai Chi Qigong Association of America, set up the Tai Chi and Health Qigong Festival in New York, which has been held for the past eight years.